Beach Bunny define themselves in 'Honeymoon'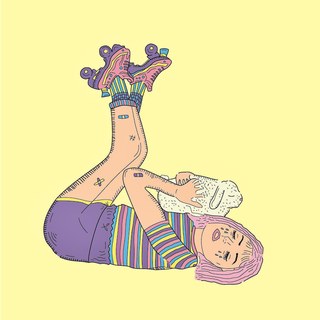 Beach Bunny, a Chicago-based indie band, released their first album, Honeymoon, on Feb. 14, 2020. The Valentine's Day release was appropriate due to the fact that the album mainly focused on relationships and the many joys and pains that are accompanied with them. Honeymoon successfully captures the feelings of love with Beach Bunny's unique blend of plain spoken lyrics and sunny instrumentation.
The most captivating element of Honeymoon is how well-defined Beach Bunny's style is. Despite this being their first album, Beach Bunny clearly knows what sound they want to create. The entire album carries the surf sound through it. The tracks on Honeymoon feature quick drumming and upbeat guitar riffs while the singer and head of the group, Lili Trifilio brings a strong voice to tie it all together. Trifilio sings with such emotion that it creates texture to the album, ensuring that it doesn't fall flat. 
Another quality of Beach Bunny's music that interests listeners is the juxtaposition of melancholic lyrics and vocals with a bright instrumentation. Each track sounds like someone trying to cover up the weight of their sadness, which makes the lyrics even more impactful. This style is especially prevalent in "Ms. California," in which Trifilio sings about how she wishes she was her crush's girlfriend. On the surface, "Ms. California" seems like a simple cheerful song until you hear Trifilio say, "California girl, I wish I was her." 
On the flip side, Beach Bunny also knows how to do love songs. Honeymoon ends on a positive note with "Dream Boy" and "Cloud 9." Both songs are quick, bubbly, and keep true to Beach Bunny's style, which stops them from becoming generic and sappy. Also, the lyrics are straightforward which keeps up the uplifting mood, but they have a slight twist to them: "Even when we fade eventually to nothing / You will always be my favorite form of loving." 
While the end of Honeymoon is great, the real standout of the album is the first song, "Promises." Overall, "Promises" is a vivid narration of someone hung up on a past relationship contrasted by catchy melodies and bright guitar riffs making it the best representation of Beach Bunny's style. The highlight of this song is the chorus, Trifilio sings, "Part of me still wants you, part of me wants to fall asleep." Later she says, "Part of me still hates you." The way that the lyrics portray mixed emotions in such a plain way makes it easy to understand and empathize with. The first two times the chorus is sung, it's fast and strong, but the next time it starts off soft and then quickly crescendos into the loudest chorus. The change in the chorus creates another dynamic to the song and gives it more life. 
There's something so genuine and sweet about Beach Bunny that they're hard to forget. Maybe it's Trifilio pouring her heart into each song, the simple lyrics or their summery style, but it's certain that Beach Bunny knows what kind of music they want to make. Honeymoon is only Beach Bunny's first album, but they have already established themselves as the front of the new wave of surfer indie pop.