LYFE Club's Mission To Make A Change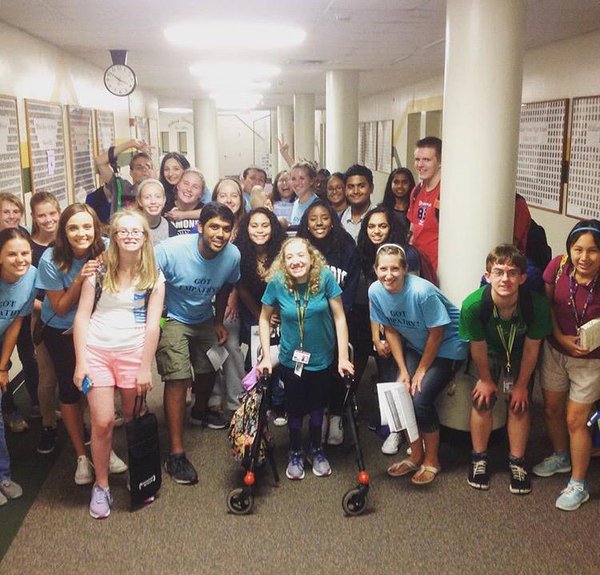 Bringing students at school closer to students with special needs, and developing long-lasting relationships among them, is the mission that the LYFE Club embodies.
Junior Nikil Badey, the co-founder of LYFE, summarized its purpose, describing it as "the attempt to educate the students of William Fremd High School and to connect them in the friendship that's really never forgettable."
Badey spoke about an event that ignited the idea to start this club.
"A really big motive for me to come up with the idea and introduce it to Mrs. Denna was that at lunch I saw a student being bullied for their disability." Badey said.  "And it's not that students were trying to be mean. They were not knowledgeable about what she was going through."
Math teacher Shannon Denna, the sponsor for LYFE, spoke about how she got involved with the club, and how a simple idea became a mission that impacts so many.
"I was approached by a group of students to start a club that worked with students that have special needs." Denna said. "I was approached because my daughter has Down Syndrome, and a lot of people knew that I worked with an organization called UPS for DownS, and a lot of people thought that I would be a good fit. We were worried we wouldn't have enough people to start the club, and now we have more than we know what to do with."
LYFE has opened a door and given a plethora of opportunities for many at Fremd to see students with special needs in a new light. However, some may be worried that they don't have the right qualities to be in this club.
"Something that I really believe is that you learn values, morals and ethics," Badey said. "I definitely learned when I started the club back in March. I did not know how to talk with students with disabilities or how to interact with them. I have learned that there is stuff I need to do in order to be a better friend. What do you need in order to be a LYFE member? Just have a nice heart and accept."
So what are some things a member can get out of this club? Badey explained how joining LYFE has impacted him.
"Something that you can take away from the club is definitely that sense of friendship." Badey said. "For me, I have a really hectic day, and I'm stressed, but when I'm around these students with different perspectives and knowledge, I just find it so fascinating. I like to take that out into the real world and apply it as well."
LYFE Club stays busy, too. They have multiple big events in the works, including a winter craft party for kids with disabilities and their siblings, a winter baking party, and working with the Special Olympics organization at Kirk School on Plum Grove Road. All are attempts to further the bonds with special-needs students at Fremd, but as Nikil pointed out, these events aren't just for students at our high school.
"One event that we're trying to incorporate the whole community in is our winter craft fair." Badey said. "It's a free day where students can come in from all over the community. You come in, you make crafts, you learn something new and you enjoy your day basically, and that's an attempt to connect Fremd not only within the school but outside the school as well."
LYFE is making an impact at Fremd, even if you're not directly a part of the club. Freshman Michelle Ganzorig comments about how this club's mission has affected her.
"I think LYFE has a positive effect on the school, because even though you might not be the same as the person next to you, it teaches you to have kindness and to be open." Ganzorig said.
If you're interested in joining LYFE Club, you can contact Mrs. Denna at
[email protected] or talk to a current LYFE Club member.