At 50, Woodfield Mall stands at crossroad of uncertainty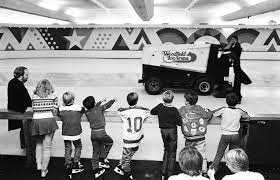 As it surpasses its fifty year anniversary, Woodfield Mall has held its place as an attraction in the Schaumburg community, but has become less of an icon in the lives of teens. 
Since it first opened on Sept. 9, 1971, the Woodfield Mall has drawn many visitors through its doors with a variety of retail and entertainment options. In 1975, the mall was considered the largest in the country and included an ice arena along with three separate movie theaters. The mall now stands as the sixteenth largest in the United States with over two million square feet of space and three hundred stores. 
According to Schaumburg's Director of Economic Development Matt Frank, at peak interest levels the mall would draw in customers from a variety of different states.
"Last time they counted pre-COVID, it was over 27 million people who visited annually" Frank said. "You've got a lot of different people, not just from the Northwest suburbs, but they come from all over the Midwest." 
Despite a decrease in interest following the March 2020 lockdowns and ensuing regulations, the back-to-school season has allowed the mall to support consumers at nearly pre-pandemic levels. Many stores have also attempted to adopt an omnipresent approach to provide products to more cautious consumers through in-store, online, and store pick-up purchase options. 
As a major hub for local businesses, the mall provides many employment opportunities and generates a large portion of Schaumburg's annual sales tax revenue. 
"Woodfield is the main economic engine for the community," Frank said. "They generate revenue to the village of $8.6 million."
According to Frank, this $8.6 million is a significant segment of the village's total revenue, which typically amounts to $3 billion annually. The mall also employs nearly 4,000 people, from teenagers to seniors.
As trends change over generations, the mall has also evolved in response to rising interests. The mall removed its ice arena in 1984 and twenty years later remodeled its fountains. In an effort to create unique experiences, Woodfield in recent years has added the Improv Comedy Club and the fourth worldwide location of Peppa Pig World of Play. Nevertheless, Woodfield now competes with the convenience of online shopping. 
Fremd social studies teacher Jennifer Wrzala reminisces of shopping at the Woodfield Mall as a teenager. 
"My most memorable experience was shopping the night after Thanksgiving during high school," Wrzala said. "My friends and I would go right at midnight and stay out all night. It was one of the few nights my Mom would let me do that because she was out shopping too!"
Despite including brands that address popular trends, Wrzala has also noticed that many of her students have shown more interest in online shopping than in-person. 
"Since the number of options and stores through the internet has increased, I have noticed that less students go to the mall regularly," Wrzala said.
Fremd junior Jasmine Patel adds that the convenience of online shopping has also lessened student interest in attending the mall. 
"It's what a lot of us got used to during COVID, and now it seems like kind of a hassle to go all the way to the mall," Patel said.
This potential decrease in teenage mall appeal creates a contrast between the significance of the mall in children and their parents' generations. As portrayed in media, including popular films such as Clueless, Bill and Ted's Excellent Adventure, and the Netflix show Stranger Things, malls often served as a symbol for teen culture and social interaction during the 1980's and 1990's.
However, the lessened teen interest poses a question of whether Woodfield will stick around for another fifty years. It appears that the teenage demographic that once acted as a representation of mall culture may also shift as Woodfield continues to reinvent itself and in what forms it will take.