There's no place like Fremd homecoming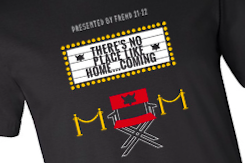 From the return of in-person learning to having full sports seasons, it's time to finally come and return home. As a third of the first semester has just come to an end, the football season is also coming to an end with their Homecoming game. This will precede the Homecoming dance hosted by Fremd Student Council (StuCo) taking place on Oct. 2 with the theme, "There is no place like HOMEcoming." 
The theme relating to T.V. shows that have been enjoyed by the student body just like the evergreen show, There's No Place Like Home. Coincidentally, it's quite a throwback to all the shows many people likely binged on last quarantine.
Some discrepancies have arisen about the origin for the theme, There's No Place Like HOMEcoming. After having spent an entire year away from school, students may have assumed that the theme was connecting back to the time lost during quarantine and is a "welcome back" to "home sweet home" in-person Fremd once again.
Fremd StuCo co-president Amelia Lin clarifies that StuCo had originally intended to make it TV-show inspired. 
"'There's No Place Like Homecoming' is supposed to be all about TV Shows and Movies, which is what inspired our Spirit Day themes too," Lin said.  "My guess is that students heard the word 'home' and immediately remembered all the days at home they spent during quarantine."
Due to COVID-19, homecoming will be looking slightly different this year — but not any less exciting. Fremd StuCo has worked hard in combating COVID restrictions to maintain the fun spirit of Homecoming.
Lin speaks of some COVID-related obstacles she and the Fremd StuCo have overcome to organize the event. 
"The biggest challenge was figuring out the location of the dance," Lin said. "We couldn't start actually planning before we knew for sure where decorations, equipment, and students themselves were allowed to dance."
StuCo eventually decided on conducting the dance outside in the back parking lot, with the pep rally being held in the football stadium. While there are many more variables to consider, like weather and dance floor safety, having the dance outside may have its benefits.
Lin elaborates on the advantages that come with the outdoor setting of the dance.
"The space is actually larger than most people would expect, and  hopefully the temperature will be much more comfortable," Lin said. "In past [homecoming dances], the main gym would get super hot super fast, and that was just something you had to deal with throughout the rest of the night."
Even with the extra layer of restrictions thanks to COVID, Homecoming remains so much more than a football game and a dance. It's a chance to interact with people students haven't met before and make new memories too.
Lin expresses why she thinks Homecoming is important, reflecting on some of her personal memories.
"It's just so fun," Lin said. "Maybe it's just because I'm a senior, but just seeing all the joyous faces of the people I've known throughout the years is an indescribable experience."