See the world at Fremd's 2019 homecoming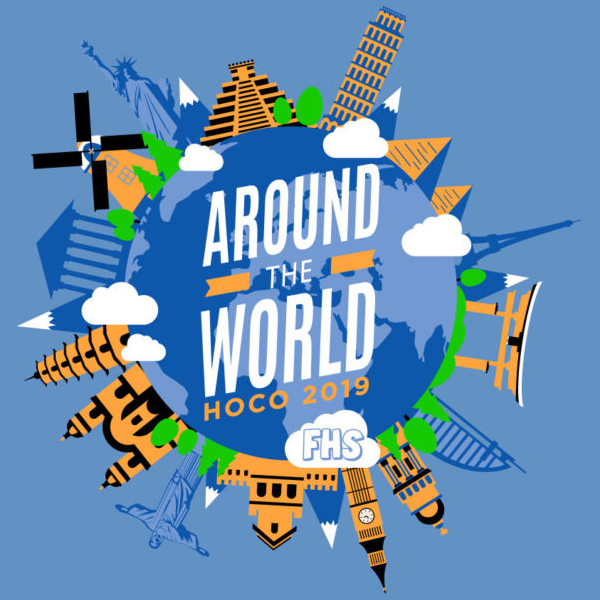 Fremd's Student Council will be hosting this year's homecoming dance in the main gym on Saturday, October 5th, from 7:30 p.m. to 10:30 p.m. This year's theme is "Around the World."
Senior Mary Tang expresses her excitement for an outlet to explore the diversity at Fremd. "It is going to be fascinating to see the different cultures that are present around us that we may not be aware of," Tang said. "Personally, I am excited to exhibit my Asian heritage during Spirit Week."
Student Council has also planned unique themes for Spirit Week during the week of homecoming. This year, the Spirit Themes are Jet Lagged Monday (Pajama Day), Tourist Tuesday, World Sports Wednesday, Where's Waldo Friday, and homecoming shirts/blue and green Friday. To encourage students to participate in dressing up, Fremd will continue the annual tradition of awarding cookies to classes with the highest percentage of students wearing spirit wear each day. 
Senior and leader of United Clubs of Fremd (UCF) Samantha Shirmer emphasizes the optimism that Spirit Week adds to the students. "Dressing up for Spirit Week is a great way for students to bond and connect as a student body," Shirmer said. "It brings a fun atmosphere to school and can also help alleviate student stress."
Another tradition that has continued from previous years are the food trucks that Student Council is hosting during lunch periods and after school events. On Friday, September 27th, the My Flavorit Place Food Truck will be open outside during lunch periods. On Tuesday, October 1st, the My Funnel and Your Sister's Tomato Food Trucks will be open during the Bubble Soccer and Powderpuff games. On Thursday, October 3rd, the Beavers Donuts, Toasty Cheese, Fire Squared Pizza, and an unconfirmed taco truck will be open during an outdoor movie night from 7:00 p.m. – 9:30 p.m. Proceeds for homecoming are going towards JOURNEYS, a charity that supports the homeless. 
Student Council Co-President Varsha Krishnan points out the best way to promote the upcoming homecoming dance. "It would be great if students show up and bring friends to all of our events," Krishnan said. "We would love to see everyone there!"
The outdoor movie night is new this year. The viewing location will be the south field behind the south gym, where Aladdin (2019) will be playing. Admission to this event is free. On top of that, there are new special menu days during the week of homecoming, with delicacies from a variety of cultures, including Italian, Mexican, German, Chinese, and Greek. Full menus will be posted to Schoology in the upcoming week. 
Tickets will go on sale on Friday, September 27th for $10. Then, from September 30th to October 4th, tickets will be $15, and students can also purchase tickets on the day of the dance for an increased price of $25. Homecoming t-shirts cost $10 and will be sold outside of the cafeteria from September 27th to October 4th.