Hurricane season ravages US coastal areas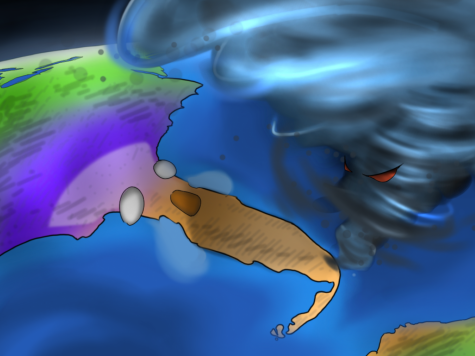 With the significant increase in global temperature, the number of major hurricanes that occurred in the 2017 Atlantic hurricane season has topped the charts since the 2012 hurricane season. Since June 1, there have been a total of 8 hurricanes and 13 tropical storms; 4 hurricanes were classified as major hurricanes. However, since the Atlantic hurricane season does not officially end until Nov. 30, there are certainly more storms to come.
The first major hurricane, Hurricane Harvey, formed on Aug.17 off the western coast of Africa and later crashed into cities across Texas on August 25. With a peak wind speed of 130 mph, Hurricane Harvey was classified as a Category 4 hurricane, the first one to hit Texas since 1961. The hurricane dumped around 27 trillion gallons of rain, approximately 51 inches, in just 6 days, setting the record for the most amount of rainfall from a tropical cyclone in the U.S.. After the hurricane ended on September 3, more than 300,000 people were left without electricity. Hurricane Harvey also caused 75 billion dollars worth of property damaged. More than 185,000 homes that were simply damaged while 9,000 homes were completely destroyed. After the storm passed, 83 fatalities were confirmed.
Senior Abhi Balu expresses his sympathy towards the people in Texas, especially because his family was affected.
"After hearing from my family in Texas, I was dumbfounded by the impact it really had on their day-to-day lives.  They had lost their home, been separated from many of their personal belongings, and emotionally severed by the traumatic events of the past weeks," Balu said. "I felt immediately grateful for the things in my life that enable me to live so comfortably and safely. However, I also felt a strong desire to help those that lost all they had and were forced to start anew."
While Hurricane Harvey demolished Texas, Hurricane Irma slammed into Florida on August 30 and dissipated on September 15. Classified as a Category 5 hurricane, the highest level on the Saffir-Simpson scale, Hurricane Irma attained wind speeds of 185 mph for 37 consecutive hours. In just two weeks, Hurricane Irma damaged 90% of the properties in Florida, an estimated $300 billion dollars worth of property, left 60% of the population homeless, and caused 102 fatalities.
Environmental science teacher Kristen Newby provides information on the factors causing the intensity of this year's hurricane season.
"It is very typical for a lot of hurricanes to occur in the months of August and September because it is in the middle of the hurricane season and it is also when the temperatures are the warmest. Hurricanes feed off of warm, tropical waters so as the current ocean temperatures are getting warmer, we are seeing that these storms are developing more often and in higher intensity," Newby said. " It is interesting to see the effects of the hurricanes from the perspective of those in the states being hit because we are very worried whereas they are a bit more calm since it is commonplace for them."
Freshman Danny Kim believes that even with small actions our community can help the people who have been affected by the hurricanes.
"When I heard about the hurricanes, I immediately thought of the damage it would cause and the amount of money that would be needed to cover the damage," Kim said. "Helping to raise money for disaster relief is very easy. Most fast food chains give people an option to donate to disaster relief efforts, so saying 'yes' when they ask for donations is an easy and convenient way to help."
People who are interested in donating should contact American Red Cross, UNICEF, or other smaller charities.