Climate March initiates campaign for temperature changes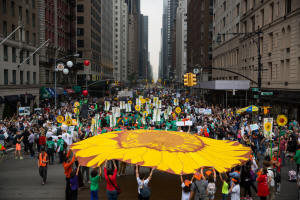 Arim Lee, Contributing Writer
October 1, 2014
In an effort to initiate awareness of climate change, the "People's Climate March" on Sunday, Sept. 21 at 11:30 a.m. began in midtown Manhattan.
The protest is intended to draw attention to their belief that climate change needs to be taken care of as a top priority and carbon emissions must be cut down. Similar protests are occurring to raise awareness of the geopolitical issue around the world. The march was just two days before the first United Nations climate summit in five years at its headquarters in New York, where 125 nations were represented.
An estimated 310,000 people showed up to participate in the march covering a two-mile route past Times Square. Of that group, 1,400 partner organizations signed up and many celebrities and officials joined in as well.
Actor Leonardo DiCaprio, who has been an environmentalist since 1998 and  was at the march as UN Secretary-General Ban Ki-Moon's messenger of peace, expressed strong opinions on the march.
"We are at a pivotal turning point," DiCaprio said. "We are seeing the effects of rapid climate change happening every week in the news."
The march began at 1 p.m. after a moment of silence when a whistle was blown and a cacophony started to be an alarm on climate change. The marchers yelled and screamed as beating drums and blaring horns played in the background.
Sophomore Allison Marozza believes the protest raised awareness about the global climate..
"I knew about climate change but didn't really notice the changes except that it was getting really hot some days and cold others," Marozza said. "The protest really emphasized the dangers of the changing temperatures and showed people like me that we need to get up and do something about it."
Climate change can lead to hotter summer days and frequent rainfalls. Severe snow storms are also a result of climate change because of the increased moisture in the air that drives heavier than normal precipitation.
On Monday, Sept. 22, another smaller group of 2,000 people came together to create a blockade in front of New York City's financial district. The "Flood Wall Street" demonstration used the momentum from Sunday's march to highlight Wall Street's contribution to climate change. During this sit-in, over 100 people were arrested for not having a police permit and blocking traffic.
These two significant protests did show some outcome as President Barack Obama voiced America's actions on climate change during the UN summit. The US is planning to reduce its carbon pollution by 17 percent from 2005 levels by 2020.
Chemistry teacher Jennifer Carlson thinks the protest drives more people to look for solutions to the growing temperature issues.
"I don't think we have the source of climate change figured out yet, but if there is a way to help then we should certainly try and do something about it," Carlson said. "The protest definitely raised awareness for climate change and helped get people thinking what to do next."