Dean Newmark takes on COVID amidst new role in administration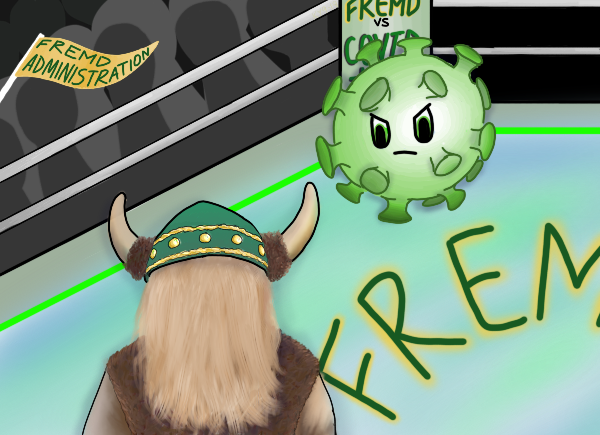 COVID-19 has brought upon numerous changes to various aspects of lives, varying from activities to travel plans to school. At the beginning of 2020, a few new members joined the Fremd administrative staff, one of them being Scott Newmark, a foreign language teacher and now, Dean of Students. Rather than carrying out usual dean duties that would consist of Homecoming week preparations, COVID-19 has presented Newmark with very different projects than was expected.
Newmark grew up in southern Florida but attended Stevenson High School in Illinois, then transitioned from pre-law to studying education at Butler University. Describing himself as an active person, Newmark believed education was the field he would enjoy the most. Teaching English at the University of Barcelona sparked his desire to teach rather than pursue law, and Newmark went on to teach elementary school before joining staff here at Fremd. 
Speaking on the development he experienced through his years of teaching, Newmark highlights his increased level of patience and appreciation for school.
"[Teaching] provoked thought that really made me appreciate what education is," Newmark said. "And I learned just how to be even more patient in the process of actual learning."
Patience, undoubtedly, plays a significant role in bringing Fremd students back to the school building for in-person learning. Seeing that many students and faculty are eager to get back to in-person learning, the Fremd administration has looked forward to the day students finally step back into the building even more. In anticipation of the return of students and faculty, the building has been prepared for the hybrid learning format since the start of lockdown. 
Labeled two-way hallways and on-way staircases to regulate traffic flow now welcome Fremd students when they enter the building for materials pick-up or afternoon support. In addition, the 15-minute passing periods were especially designed for the hybrid scenario to designate which classes would be dismissed earlier versus later. 
"We were all ready for the first week of August and going through next steps when we just got the message from the state said we should be remote," Newmark said. "That's where you need to have flexibility in the administration, so we say, 'Okay, listen. We don't want to do this, but we have to.'"
While hybrid plans were pushed aside at the beginning of the 2020-2021 school year, Fremd and D211 have been slowly incorporating more in-person opportunities for students. Newmark describes how the current situation could improve and elaborates on the slow return of in-person school.
"It is a slow re-entry into what we hope is a hybrid scenario," Newmark said. "But as of now, I think that if there's one area that we could drastically improve on, it would be communication."
The process of reaching out via email and communicating extensively through Schoology has its holes. Even so, Newmark encourages students to continue being engaged and to remember that we are all in this together. 
"It's not about the individual; it's about the collective whole," Newmark said. "Because individuals will rise and fall, but if the collective nature of [our] school is positive and uplifting, individuals will have a hard time falling."