Australian fires decrease in scope, but new concerns arise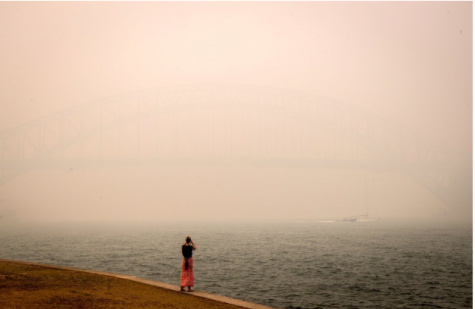 Over the past two months, Australia has been consumed by massive wildfires, some of which are the worst the country has ever seen. Federal authorities have struggled to contain the massive blazes in the country, especially in the state of New South Wales, which has been hardest hit. 
The fires have razed large areas of bushland in national parks such as the Blue Mountains, just west of Sydney. To make matters worse, thick plumes of smoke emanating from the fires have damaged several homes and blanketed entire regions of Sydney. In fact, according to a recent study done by the New York Times (below), the smoke was so bad in Sydney that air quality readings literally went off the charts, hitting 400 micrograms per cubic meter, 16 times what is considered "good."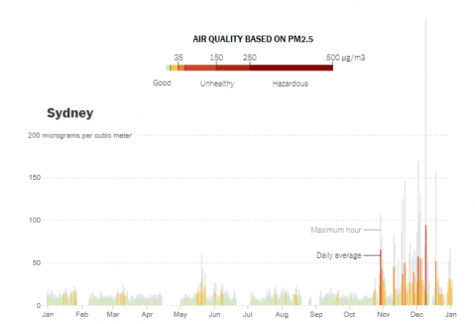 (source: NY Times)
In addition, while the ferocity of the wildfires has captured the attention of the public, several experts worry about how climate change has worsened the impact of natural disasters like fires. In fact, according to the Australian Bureau of Meteorology, Australia is experiencing one of its worst droughts in decades. Furthermore, a heat wave has caused the temperature to spike to nearly 114 degrees Fahrenheit in some parts of the country.
When questioned about the precautions and safety measures that Australia should make in order to lessen the impact of their next natural disaster, Fremd freshman Amogh Ramkumar discussed some short-term priorities for Australia's government. 
"Right now, Australia should call in more firemen to control the spreading of the fires," Ramkumar said. "They should also tell their citizens to control their energy usage." 
However, while Ramkumar thinks that Australia needs to take care of its current wildfires, Fremd freshman Anish Mukherjee believes that Australia needs to start preparing for future disasters by drafting new legislation in order to decrease the effects of climate change. 
"In the long term, the government needs to become more aware of climate issues," Mukherjee said."They need to implement new policies. For instance, the government could advise Australians to start using mass transit so that people use less nonrenewable resources." 
The aforementioned environmental issues raise questions as to how Australia will deal with future crises, and several high-ranking officials in Australia have sent Prime Minister Scott Morrison warnings of the impact of climate change in the country. Despite the warnings that he has received, CNN reported that Morrison has claimed that he wants to reduce carbon emissions and will only stick to "sensible policies" and that there isn't a "single policy" that can protect Australia from its fires. 
Sydney native Ananya Chakraborty discussed several immediate changes that Australia is implementing in order to inhibit the effects of the wildfires. 
"The government is advising people not to set fires in the woods," Chakraborty said."Many Australians are trying to consume less electricity to save energy. There have also been restrictions on the amount of coal [citizens] are allowed to use." 
Australia has been able to remedy the situation by calling in its reserve guard of firefighters as well as obtaining volunteer firefighters from other countries, such as New Zealand, the UK, and the USA. The severity of the wildfires has decreased, and Australia has been able to impose some short-term restrictions upon its citizens in an effort to get the country back on its feet. At the country's current rate of carbon emissions, with no signs of major nonrenewable energy restrictions, the yearly set of wildfires may continue to grow worse in magnitude and duration. 
Leave a Comment
About the Contributor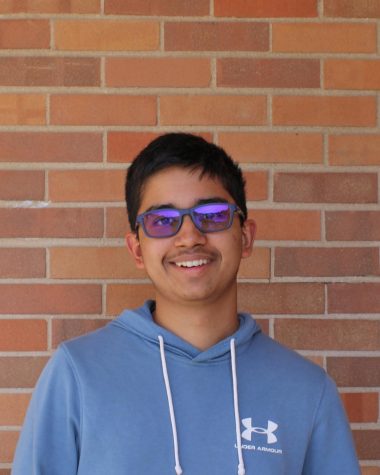 Sourojit Mazumder, News Editor
Souro is a senior and a news editor. This is Souro's fourth year writing for Logue and his second as an editor. Aside from writing or editing for Logue,...