Illinois' marijuana legalization raises concerns for communities, students 
*Writer's note: At time of publication, The Village of Palatine has since approved a dispensary to be built*
In less than one month, Illinois residents age twenty-one and over will be able to walk into a dispensary and buy marijuana legally. Governor J.B. Pritzker signed a law in June that will make Illinois the eleventh state to legalize recreational marijuana. As of Jan. 1, 2020, residents will be able to have up to 30 grams of cannabis flower, 5 grams of concentrate and 500 milligrams of THC in products such as edibles. Non-Illinois residents will only be allowed half as much as residents. While proponents for the legalization have positive viewpoints, physicians, law enforcement, and politicians have expressed concern about the effect that the law will have on teenagers and the community. 
Illinois legislatures are hoping to generate state income through taxing marijuana sales. However, Palatine Mayor Jim Schwantz thinks that the state's failure to provide local governments with a definite economic plan has made preparing for the new law difficult.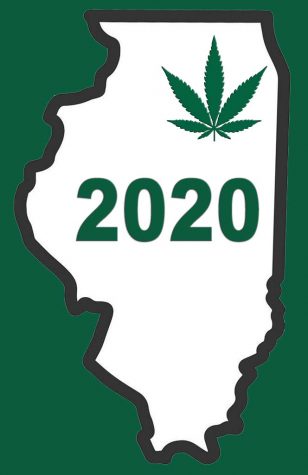 "The state has indicated that they will be setting aside a portion of their revenues to distribute back to local law enforcement agencies…[but] they have given us no indication as to what those amounts will be," Schwantz said. 
Recently, Naperville's city council opted out of having recreational marijuana sales in their town; however, Buffalo Grove's town council voted to allow a dispensary despite residents' protests. Adding to this is the financial aspect that local governments must sort out.  
"I feel that there is a general sentiment against allowing a dispensary; however, we know there will legally be marijuana in our town as of Jan. 1, and we will have significant expenses related to that when it comes to police training and equipment as well as the increased calls for service," Schwantz said.
Options for Palatine are limited since marijuana will be present in the town. Palatine residents may encounter an increase in taxes or cutting of local programs in order to cover costs. 
"Remember, the state of Illinois has legalized marijuana, not the Village of Palatine," Schwantz said. "Remember that marijuana is still a controlled substance under federal law."
Crime Free Multi-Housing Coordinator for the Rolling Meadows Police Department Officer Jason Everett references the impact that legalization of marijuana had on Colorado – namely, an increase in traffic accidents and eventually an increase again in illegally purchased marijuana due to it being cheaper and more readily available. 
"They are also finding as time goes forward that people are reverting back to their old methods of obtaining cannabis because it's so regulated to do it legally," Everett said. 
With this increased prevalence of marijuana in the public sphere, there are concerns regarding high schoolers' health and well-being. 
Site Leader for Pediatric Emergency Medicine at Ann & Robert H. Lurie Children's Hospital of Chicago, at Northwest Community Hospital, Dr. Meta Carroll, stated her concerns regarding the availability of marijuana once it's legal and a greater chance of it being found in homes. 
"In the same way that teenagers can reach for alcohol that's in the home, it's just more accessible to the people who are most vulnerable to its effects; that's really what I worry about," Carroll said. 
Although some say that marijuana is a harmless drug, it can still send teenagers to the ER secondary to unwanted symptoms. According to Carroll, there are a variety of complaints that bring patients to the emergency room which range from panic attacks to chest pain and respiratory distress. 
A pediatrician, a pediatric ICU intensivist, and a pediatric ER doctor were all asked how frequently they currently see marijuana use in their patients, and they all responded that they see it daily. Pediatrician and Chair of Pediatrics at Aurora Medical Center Dr. Sheri Rocco said she does have serious concerns regarding the drug's legalization. 
"Whereas kids used to consider it illegal and dangerous, now I actually have teenagers argue with me that it's healthy for them because it's 'organic' or 'natural, Dr. Rocco.' I do worry," Rocco said. 
According to Carroll, a common misconception about marijuana is that it calms people down, but it can have the opposite effect. 
"I see it almost every day," Carroll said. "Sometimes, as kids experience anxiety they want to use marijuana to calm down or be able to sleep at night or just mellow out. But instead of their mood getting better, they actually get really, really irritable. Their mood disorder worsens. I think a lot of kids don't know that."
A freshman athlete at Fremd High School says he has no interest in using marijuana, not only because he wants to stay in good condition for his sport, but also because he's had personal experience with the consequences of the drug on people he knows. 
"I just know what it's done to family members and what drugs can do, and that's what scares me away. I feel like there's going to be more problems for everyone," he said. "Marijuana could ruin my season. We get tested and I don't want to have problems with breathing and running. I think it's more of a dangerous drug. You can get addicted and it will ruin your life completely." 
Students might be more vulnerable to peer pressure and more likely to experiment with the drug at some type of high school party. Science teacher Rachel Scianna knows of programs seeking to curb the exposure to drug use in high schoolers. 
"I know in terms of the coaching community and the athletic community, they are instituting a program to try and combat some of the parties that might occur after a football game," Scianna said. "They are trying to encourage more school structured events, like 'Let's have a cook-out with Barrington and Fremd' instead of, 'After the game let's all go to a party.'" 
The effects of marijuana have the potential of being a long-lasting issue and sometimes result in addiction. Rocco states that while some students had the privilege of getting their life back to normal, others continue to struggle. 
"After you do marijuana for too long, it's very hard to get off of it," Rocco said. "I know that the internet tells teens otherwise, but it's just not true. They will have a hard time readjusting to life. Right now, because it's getting legalized, there is a thought that 'Oh, it's got to be okay, because it's legal,' but it's not in any way. It's still a drug, and I see a lot of kids that start out with pot and then they end up going to harder drugs."
Despite marijuana being currently illegal, it's still easy for a student to find it if they are determined. 
"I once asked my nephew, 'If you wanted marijuana, how would you buy it?' and he said, 'I would walk down the hallway of my high school or I would look around the cafeteria and find the seller.' And so it's very available, very prevalent, and not too expensive," Carroll said. 
Illegal marijuana is being laced with other drugs, including LSD, cocaine, and heroin. Carroll mentions the dangers that synthetic cannabinoids can have on patients. These chemicals can turn a simple marijuana high into something much worse. 
"The biggest thing I worry about is all the synthetic marijuana that is out there; anybody can create a substance in a lab, anywhere and manufacture something chemically," Carroll said. "The other thing would be if there is any additional drug that is mixed in with that, particularly opioids, which are super dangerous…and now I don't know what that poison is that is in my patient's body." 
Schools will have increasing challenges over the next several months. 
"I think it will only be easier for high school students to get possession of marijuana. It will be in our town because of the actions of the state of Illinois. The effects of this drug are real and will have a negative impact on students. The schools will need to increase their enforcement efforts as well," Schwantz said.