D211 appoints Dr. Lisa Small as new superintendent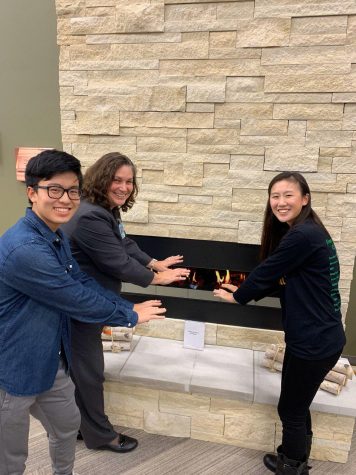 Township High School District 211 appointed Dr. Lisa Small as its new superintendent this past October. Small, who is D211's current associate superintendent for instruction, will assume the position after the retirement of Dr. Daniel E. Cates, the district's current superintendent.
Small has taken on various positions in the educational field prior to this appointment, starting  with a teaching career at Adlai E. Stevenson High School, transitioning to District 211 as a math and science teacher at Hoffman Estates High School, and serving as William Fremd High School's principal. When asked about her past experiences, Small believes it has helped her develop professionally. 
"As a teacher, your whole world revolves around those kids in your classes. What can you do to prepare them, how can you adjust your lessons," said Small. "As an administrator, the range of students broadens." 
D211 started their search for a superintendent this past June, signing a $17,900 contract with School Exec Connect, a third-party that would determine candidates for the position. Small, who worked with the Board of Education and Dr. Daniel E. Cates, believes that it is her inclusive experience that allowed her to stand out among the pool of candidates. She trusts that her previous and ongoing contributions toward developing District 211 lay a foundation for her future role.
"The experiences that I've had in the roles of this district prior to the job search is something that I hope the Board of Education saw as a benefit," Small said. "I have that base perspective and understanding. For the past 27 years, I have been a part of building this district and moving it forward."
Out of D211's record of superintendents, Small will be the sixth of eight superintendents who were hired within the district. Small believes the trend is indicative of how the district desires to grow.
"I believe that it shows we are moving in the right direction, that we don't want to be stagnant. It shows that we can continue to grow because of the successes that we've had," Small said. "If you look at anecdotal data from past graduates, it shows that we are doing things right."
Since the start of her career, Small knew she wanted to work within the field of education as a teacher, receiving a bachelor's of Science-Biology Education from the Ohio State University in 1991. However, the transition from teaching to administration was an idea that sprouted through a recommendation.
"I was a math and science teacher; one day, my principal at Hoffman Estates High School at the time tapped me on the shoulder and told me I should apply to be assistant principal," said Small.
Small believes that instance in her career can serve as a message in a larger context. 
"When someone plants the seed in your head, that's when you start to cultivate that idea and see if that's what you want to do," said Small.
Small received her doctorate of education in Curriculum and Instruction at Loyola University-Chicago in 2005; later earning a Certificate of Advanced Study in Educational Leadership Administration and Supervision from National-Louis University in 2000, and her master's of education in Curriculum and Instruction – Secondary Education from Northern Illinois University in 1997.
Assuming the role of Superintendent broadens Small's responsibilities as she is now accountable for around 12,000 students' successes. 
"Many of our graduates, leave us prepared for their next steps; as superintendent, that's one of the things I can ensure is that we continue down that road and continually prepare them," said Small.
Small has already developed a wide array of goals, both short-term and long-term. Her first priority is to begin hiring and fill open positions so that District 211 hires the best teachers for their students. Looking more long term, Small hopes to develop a system that uncovers data on recent graduates, revealing potential successes and hurdles that they may face after high school.
"As we continue to do better at preparing students, I also want to find out graduate's success rate when they leave us," said Small. "I want to have a good system of contact from recent graduates one or two years down the line."
There are some challenges that Small will need to address as Superintendent. Small explains her planned course of action and stresses the importance of open and honest communication tactics. 
"I have conversations with the union on a consistent basis. I hope to continue those open conversations, because open communication is key to understanding each side. It is often due to misinterpretation. We need to make sure we truly understand where the other person is coming from." 
Leave a Comment