The Isle of Man highlights upcoming grandmasters' road to eliteness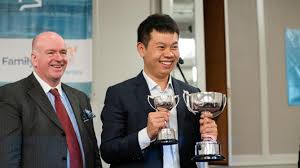 The qualification cycle for the 2020 Candidates tournament has been the home of underdog victories, world records, and drastic rating changes. From Grandmaster Teimour Radjabov becoming the recent World Cup champion to world champion Magnus Carlsen only losing one classical game since the beginning of 2018, this season has illuminated to chess enthusiasts the seemingly infinite directions that chess could go in with the introduction of new competitors and tournament strategies.
Hao's Success
Upon defeating David Howell in a thrilling eleventh round match and tying the point leader Fabiano Caruana, Wang Hao qualified for the 2020 Candidates' Tournament, offering him a chance to challenge Magnus Carlsen for the world title. Chess fans were stunned, noting that Hao had reached his peak performance rating in 2013 and seemed to have declined from that point on. Along with Hao's strong showing in the FIDE Grand Swiss tournament (also known as the Isle of Man), Carlsen's record-breaking 101-game undefeated streak highlights the groundbreaking turnout of this year's Isle of Man.
The Rise of Young Grandmasters
The tournament hosted an influx of new grandmasters, some of whom were promoted during the tournament. 13-year-old Raunak Sadhwani, 14-year-old Vince Keymer, and 15-year-old Jonas Buhl Bjerre were granted the Grandmaster title upon picking up the last of three required norms and passing a FIDE rating of 2500. Keymer and Bjerre became the youngest grandmasters from their respective countries, Germany and Denmark. The three young players are continuing the apparent trend of an increasingly young grandmaster population in the chess community.
Underdog Performances
The FIDE Grand Swiss tournament also highlighted the underdog achievements of several rising grandmasters. Notably, Grandmaster Alekseenko Kirill of Russia demonstrated fluidity in his gameplay, beating Sergey Karjakin, drawing to former world champion Viswanathan Anand, and splitting points with Carlsen. Kirill's performance clinched him a third-place finish in the tournament, placing him above world-famous Hikaru Nakamura and Carlsen. Howell also stunned fans with his exquisite playing, holding his own to defeat top ten player Alexander Grischuk and to finish the tournament in eleventh. Along with Kirill and Howell, Grandmaster David Anton illustrated his rapidly increasing strength through his victories against Grischuk and 21-year-old Armenian grandmaster Robert Hovhannisyan, securing him a solid fourth-place finish.
The end of the Isle of Man tournament has left chess enthusiasts to question the future of the top ten. With poor performances from high-quality grandmasters like Grischuk, some top ten grandmasters are losing their positions in the leaderboards. With Carlsen finishing in sixth place overall despite losing no matches, it is becoming evident that upcoming grandmasters pose a great threat to current leaders. Fans now have eyes set on the Grand Prix tournament and Grand Chess Tour events in November to observe whether the trend of rising grandmasters will continue to finish the season.