21 Savage at risk of deportation
Alex Hu, Staff Writer
February 27, 2019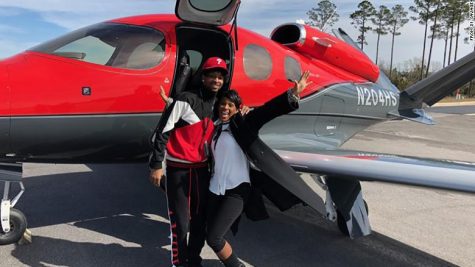 Instead of planning to perform at the Grammys on Feb. 3, rapper 21 Savage was taken into custody by Immigration and Customs Enforcement (ICE) and placed in U.S. immigration detention. ICE accused 21 Savage — whose given name is Shayaa Bin Abraham-Joseph — of being a U.K. citizen who entered the U.S. legally in 2005 and overstayed his visa as a minor.
Sophomore Abhiram Vallabhaneni expresses shock when he heard that Abraham-Joseph was British.
"I always hear 21 rap about Georgia and Atlanta and just about street life in America," Vallabhaneni said. "No one expected him to be British."
News about Abraham-Joseph's immigration was soon turned into memes that gained popularity on the Internet. Despite the jokes about Abraham-Joseph, his situation also brings to light the highly debated topic of young immigration.
In a statement on Feb. 5, Abraham-Joseph's lawyers stated that Abraham-Joseph was brought to the U.S. at the age of seven under a temporary H-4 visa. However, he did not replace his visa when it expired, making him one of the 1.8 million Dreamers who were brought to the U.S. as children.
It is rare that a deportation case sparked this size of nationwide attention. Ten days after his arrest, Abraham-Joseph was released on bond from immigration detention.
Back in 2017, Abraham-Joseph applied for a special visa for victims of crime to assist law-enforcement investigations after he was shot six times and his friend died in a 2003 shooting. His visa is still pending, making it unclear whether he could ultimately be deported without his visa being granted.