Fremd's tradition of talent continues at Variety Show
Fremd's annual Variety Show, from Jan. 31st to Feb. 2, continued the tradition of showcasing the many talents of Fremd students. The show, which featured returning performers and numerous fresh faces, attracted hundreds of attendees, eager to see what Fremd had to offer beyond academics.
Emcees Morgan Miller and Joey Barrett made frequent comedic appearances throughout the show, taking up the roles of reporters at Fremd. Miller and Barrett's critiques on everything from the media center's lack of computers and abundance of TVs to the administration's role in the teacher strike contributed to an already memorable night.
Act One kicked off with Drumline's energizing performance entitled "Barracuda/Too Many Tacos." The show proceeded to live up to its promise of "variety," featuring singing, rapping, dancing, beatboxing, comedy, poetry, and an assortment of instruments. The production artfully balanced lighter and heavier themes, with some acts addressing issues in the world today, calling for religious coexistence and acceptance of others and ourselves.
Junior Miguel Mercado, who shared yet another issue plaguing the world today, the plight of bees, considered the unique opportunities V-Show provides for Fremd students. "I…enjoy how it gives anyone regardless of background an opportunity do something and have fun doing it too," Mercado said. "It's one of the only events that allows really anyone to showcase their interests or quirks."
While V-Show provided the perfect opportunity for many students to display the product of their hard work, it also created a uniquely memorable experience, for directors and participants alike. Sophomore Ariette Kaberlein, the pianist of the band Avenue 18, described her time spent preparing for V-Show. "It's a very fun environment, [and] everyone's excited to be there," Kaberlein said.
Sophomore Max Wojtowicz, the drummer of Avenue 18, echoed these sentiments.
"It's overall really fun and you get to show off your skills in front of a significant crowd," Wojtowicz said. "I personally met some really amazing people and I don't regret a thing."
English teacher Russell Anderson, one of the directors of V-Show, revealed why he decided to help run V-Show.
"I love getting to see all the talent that the students have,"Anderson said. "For as creative and talented as I know students are in here, the talent and creativity they have in their free and extracurricular time surpasses that, so it's a ton of fun for me. [It's] nice to celebrate everything the students at Fremd do."
About the Contributors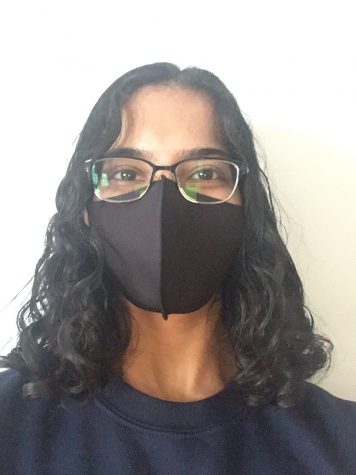 Maya Nayak, A&E Editor
Senior Maya Nayak has written for Logue for four years, and this is her third year editing for the A&E department. After covering the 2016 election...