Staff Spotlight: Patrick Craig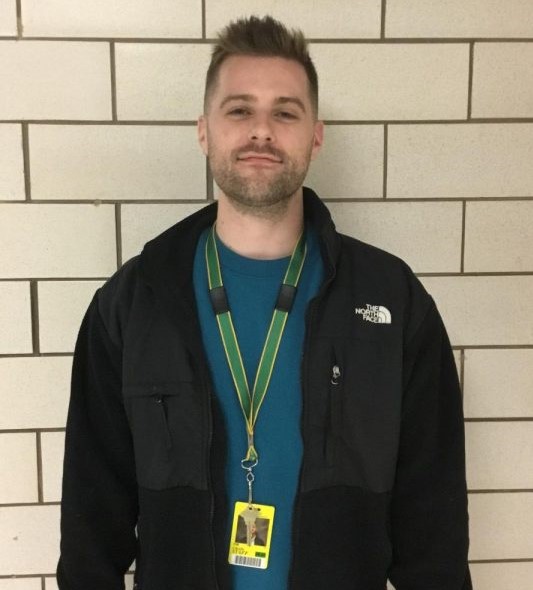 As students blur through the hallways of Fremd High School, it is inevitable that they speed by a remarkable place where inspiration and dedication manifest into one department: Special Education. A new face among this passionate group of teachers is Mr. Patrick Craig. Craig teaches a little bit of everything here at Fremd because, as a Special Education teacher, he must teach all subject areas. His classes include English, US History, Science, Math, and Consumer Education. On top of that, he is a member of the coaching committee on the Viking Speech Team.
Craig grew up locally, in Arlington Heights, and then moved to Palatine around his sophomore year of high school, graduating from Fremd High School in 2005. After attending Harper College, DePaul University, and Roosevelt University, he got his teaching degree from Northeastern. For him, this lifelong process to get to where he is now was not easy, but he is thriving as an educator that works hard and radiates empathy everywhere he goes.
When and where did you first begin teaching?
I started out as a Teacher Assistant in the Special Education department at Schaumburg High School, so there is a lot of instructing and teaching that I did over there. That's where I got my first experience in a classroom setting as an instructor and helping out students, in particular, students with special needs. That's kind of where I got the idea of going into Special Education — I was already getting my degree in English education, and then that moment at Schaumburg, I thought "Okay, now I want to get into the Special Ed department."
Was being a teacher always your dream career or did you stumble upon it on the way to a different path?
It honestly was not my dream career. I did not make the decision to go into teaching until I was 26. From the time I graduated high school to that point of realization, I was pretty much lost; I didn't really know what to do, and it was, like I said, that first experience being in a school setting as a Teacher Assistant where I really knew that this was where I need to be.
What is the thing that inspired you most to be a special education teacher?
I think applying my own experience of not knowing specifically what you want out of life right when you get out of high school, and not having that sort of path that everyone has. We often assume that right after you graduate, you go to college, you get a job, and that's it. So I understand the idea that not everybody takes the same path toward success, and the students in my particular field and department have that same experience, and I applied it there. I also have a soft spot for people who need extra support and being able to let them have the same access and opportunities as everyone else. It feels great to be a part of that.
What personal strengths do you find especially helpful in your teaching?
Number one is definitely having flexibility and patience; understanding that each student is an individual, and finding that balance between doing something that is great for the group while also tailoring to each individual—I feel like I have a good sense of that. Another strength is being a kid at heart, and being able to understand and remember what it was like to be a teenager and everything that you guys are experiencing, and especially how you perceive the world. I think that it's important to take these things into consideration every time I step in the classroom.
To those that don't know much about it, what are some important things you think that everyone should know about special education at any high school?
I also didn't understand much about it in high school, but I would say that what people really need to understand is that Special Education is a service we provide. A lot of people like to think that all these classes are easier or the kids have to do less work, and essentially the kids have to jump over the same bar that everybody else does. Our job, this service that we provide, is that little bit of a boost, or that little support, those certain strategies to help them get over that bar. Sometimes kids who aren't in special education might take for granted that we have these skills that others don't have. Something that might come off as easier to others doesn't always happen like that for every student. I also would like for everyone to understand that students who do receive special education services are not defined by those services. Every student in this building has the same hopes, aspirations, dreams, feelings, and I would like everybody to understand that being in special education services doesn't limit you in any way and there should absolutely be no stigma attached to it.
What are your hobbies and interests outside the classroom? What motivates and inspires you in life?
I'm inspired by just knowing that there is always something to learn, and there is always something that I don't know. I'm always going to be growing and improving myself. I feel like I'm never really content with where I am at; I'm always looking for that next up to continue improving who I am. I really love listening to music. Not a day goes by where I don't listen to it in some shape or form. I love pop culture, and I do like some trashy reality TV shows. I'll give you the boring answer as well—I do like to read and write as an English teacher, and lastly, just enjoying and cherishing my time with my friends and family.
What led you to be a speech coach here at Fremd? Were you a part of the speech team or any other teams in high school?
In high school, I was not. I wish I would've been involved in more extracurricular activities, but I have taught speech class before, and I also have a history of giving speeches in college. I thought that it would be a perfect fit because it helps to expose myself to other students in the building instead of being stuck with my main group of kiddos. I get to meet everybody else. Sometimes I limited to this one hallway, so I get an opportunity to branch out. Speech team is actually a completely new experience for me; but now I'm three months into it, and I love it. I wouldn't change it for anything else. I really didn't know what to expect at all, but I find it very rewarding. There is a lot of talent out there that I didn't know was in these walls, so it's really great to see that.
What is the biggest difficulty you face as a teacher?
One of the biggest challenges is finding that balance between tailoring to each individual need, while also moving forward with the group. Like I said, it is hard to make the decision of catering to a big group of people but also making sure I remember that each one of them is an individual, and finding that balance is pretty tricky. There's also never enough time to get everything done that I want.
What is the most fulfilling aspect of your job?
Knowing that I am providing some type of guidance or support for young minds before they go out into the world. I just remember certain teachers that I can think of that have taught me something — at my age right now, I can still remembers what my teachers have done, so it's fulfilling to know that I'm hopefully going to do that and have an impact on my kids when they're older.