Fremd hosts Artsfest, a week of creativity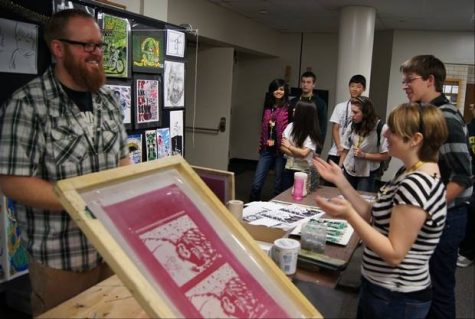 Fremd High School will be hosting its biennial Artsfest, a week long festival dedicated to showcasing various forms of artistic expression. Starting on October 29th, students will have the opportunity to go to the auditorium during their free periods and experience music and art at a professional level.
In the auditorium, professional musicians and ensembles from all over the country will be performing. Furthermore, students will be able to learn about various musical techniques and styles from these groups through interactive performances and time allotted for questions.
Freshman Brandon Grochowski is one of many students excited to listen to music at a professional level.
"I think it's going to be really cool; you get to hear music at a professional level," Grochowski said. "It's going to be a very special occasion, this sort of chance doesn't happen every day."
The festival is not limited to only Fremd Music and Art students. Students with a various fields of interests are welcome to participate. Band director John Teichert believes that the week-long festival will benefit all students, not only musicians.
"It's eye opening to see that music and art isn't just limited to what you experience in school; there's this whole world out there of music and this week will allow us to open up our ears," Teichert said. "Even if you aren't performing music, you feel and hear things that will not only interest you but also push you to think in a different way."
With groups such as Alliance Brass, Fifth House, and the Jake Victor jazz quartet participating, students can expect to hear unfamiliar genres and sounds such as classical, contemporary, and jazz. For instance, the Northern Illinois University Steel Band will be performing on steel pans rather than a traditional set of steel drums.
For those interested in musical careers, multiple schools such as Roosevelt University and the University of Illinois Urbana-Champaign will be giving a "Careers in Music" presentations in the choir/orchestra room. Students will have the opportunity to ask questions and learn about musical careers.
In art classrooms and in the library classroom, the art department will bring in various visual artists and colleges to present to aspiring students. Colleges such as the Art Institute of Chicago will present characteristics unique to their programs, provide information on art portfolios, and give insight on potential careers after college. Furthermore, professional artists such as Jason Burke will share parts of their creative work and discuss job opportunities in art and design careers.
Throughout the week, students and teachers are encouraged to participate in Artsfest. Junior Mary Tang provides insight on why she is looking forward to the festival.
"Since I play music, I really want to listen and learn new styles and techniques about not only my instrument but also the ones I play with," Tang said. "To add on, everyone is so focused on their demanding and challenging classes that sitting down and enjoying music for period is a great and well-needed break in your day."