D211 purchases environmentally friendly propane school buses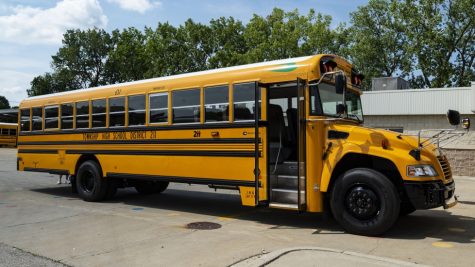 To kick off the 2018-2019 school year, D211 has added fifteen propane buses to its fleet of 163 total buses. As a first step to making eco-friendly decisions, the district has decided to purchase propane buses after considering other fuel alternatives.
One of the key reasons for this purchase was an increased winter reliability, as students are often victims of the cold while waiting for their bus to arrive.
Math teacher and bus driver Robert Higgins recalls previous winter difficulties.
"I have had a diesel bus not start before due to the cold," Higgins said.
With the addition of these propane buses, they have the potential to reduce dreaded waiting times. Unlike petroleum and diesel buses, propane buses do not run the risk of gelling during frigid temperatures, allowing them to start quickly and get students to school more efficiently.
These buses signify the district's focus on being more environmentally-conscious.  Propane produces significantly less pollution than its petroleum counterparts; therefore, the use of propane buses reduces emissions of greenhouse gases such as carbon monoxide and hydrocarbon.
Freshman Ryan Ahn gives insight on greenhouse gases emitted by buses.
"There are many school buses that release toxic and pungent fumes" Ahn said. "These new buses are a step in the right direction.
With the addition of these "green" propane buses, responses from students have been positive. In fact, these new buses have sparked ideas on how the district can take more steps to being more environmentally friendly.
Junior Anjali Narahashim proposes an idea of a recycling program as District 211's next step in making environmentally-friendly decisions.
"I think the propane buses were a great idea," Narahashim said. "There's not a recycling system at Fremd and we should do something to fix that. The effects of it would be really valuable for the school and the environment."