Blink-182 founding guitarist Tom Delonge leaves group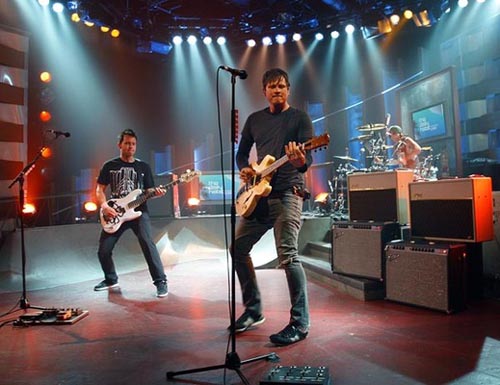 Popular California pop-punk band Blink-182 released a press statement on Jan. 26 stating that founding guitarist and vocalist Tom Delonge had departed from the group after 23 years.  The news of his departure came as the band were planning to record an upcoming album, which was scheduled for release later this year.  As a result, Matt Skiba, guitarist and vocalist for Chicago's Alkaline Trio will be filling in for Delonge on upcoming dates.
In their 23 years together, Blink-182 has sold over 35 million records worldwide, including classic records "Dude Ranch," "Enema of the State," and "Take Off Your Pants and Jacket."  They have also built up a devoted fanbase over the years, with over 1.1 million followers on Twitter and more than 10 million likes on Facebook.  Despite a hiatus from 2005-2009, the group has never lost its accessibility with its spirited pop punk.
Senior John Song first found out about Blink-182 in middle school, and has been a fan ever since.
"I started listening to Blink-182 in middle school. My friends told me about them, and it turns out they had some awesome music," Song said.  "I grew up listening to bands like Sum 41 and Green Day, so I immediately fell in love with Blink-182."
Thousands took to social media with reactions to Delonge leaving the band, with many fans and followers confused about the exact details of his sudden departure.  After the press release, Delonge has made numerous Instagram posts about how the rumors were false about him leaving the group and it was all a misunderstanding, but then Barker and Hoppus both released statements explaining how Delonge had actually sent an email to them through his manager saying that he had quit the band and has decided to focus on his other band, Angels and Airwaves.
Song was surprised at the news, and was further upset at the infighting between one of his favorite bands.
"At first I was shocked when I heard that Tom Delonge left Blink-182. A few hours later I saw a post from Tom Delonge, stating that all this was one big misunderstanding and that he was still in the band," Song said. "Then a few hours later Mark Hoppus and Travis Barker stated that Tom Delonge had truly departed from the band. Not only did Tom leave Blink-182, he also attempted to lie to his loyal fans. This was beyond disheartening."
Many believe that with Delonge's absence, Blink-182 will not be able to carry on without his presence. Following the incident, Delonge announced that he will soon be releasing unrecorded songs that he wrote for Blink-182's new album, along with brand new tracks from Angels and Airwaves.  As for Hoppus and Barker, they say they are still devoted to Blink-182 and will push the band forward.
"Travis and I are intent on protecting the legacy of Blink-182 and continue to do what we've been doing for the past two decades: continue playing the songs that we wrote," Hoppus told Rolling Stone.
Blink 182 will headline the 2015 Muzink Festival with Matt Skiba on March 22.