Enrolling begins for Illinois Medical Cannabis Program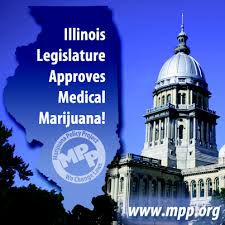 Sai Ravi, Contributing Writer
October 3, 2014
Initiating Illinois' medical marijuana pilot program, Governor Pat Quinn signed HB1 on Aug.1, 2013. This act is a result of 10 years of legislative work, along with labor from hundreds of doctors and patients around the state. On Sept. 2, 2014, the Department of Public Health began accepting applications from people with names beginning with A through L. People with names beginning with M to Z may apply to this medical program starting in November.
The legislation will continue to improve marijuana-related laws throughout the year. Recently, three bills have been filed to remove criminal penalties for individuals found with up to 30 grams of cannabis. According to the Marijuana Policy Project, some acts such as HB 5708 will allow people to avoid jail time and possibly remove any criminal records, which could hurt public assistance, housing and employment. However, this doesn't mean that Illinois will become flexible in regards to marijuana penalties.
The state continues to hold the record for having the fifth-highest arrest rate for marijuana possession. Prior to the implementation of the medical cannabis program, there would be a jail sentence of up to 30 days and a fine of $1,500 for possession of less than 2.5 grams of marijuana. For any amount higher than 30 grams, the punishment would be up to three years of imprisonment with a possible fine of $25,000.  According to the Chicago Tribune, the number of marijuana license seekers has topped expectations with a total of 211 applications for dispensaries, whereas the Illinois' allowance number is 60 dispensaries.
Fremd police consultant Bill Leyden hopes that people will use the program appropriately.
"Cannabis has been determined to provide comfort and pain relief to patients suffering from debilitating conditions," Leyden said. "My hope is that those who do not need to use cannabis will not abuse this program."