U.S. dominant in FIBA World Championship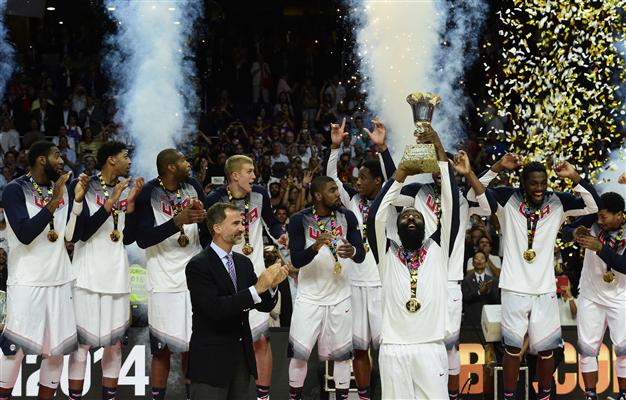 Scott Lenz, Staff Writer
September 19, 2014
The U.S. Men's National Basketball Team solidified their recent dominance over the rest of the world, winning the gold medal in the 2014 FIBA Basketball World Cup on Sept. 14. The victory over Serbia in the gold medal game gave the United States its fourth major tournament win in a row and lengthened their win streak in international play to 63 consecutive games.
In a team press conference following their victory, Jerry Colangelo, executive director of USA Basketball, explained how one key to USA's success was how it developed young talent.
"The amazing thing about all that has happened is that we have used so many different players to win these championships, which is a testament to the game in our country and the depth of talent that we have," Colangelo said.
Often referred to as the "C Team," Team USA was forced to focus on playing as a unit with the absence of superstars Lebron James, Kevin Durant, and Paul George among others. With only two players returning from the 2012 Olympic Team, opportunities opened up for many NBA stars, unproven in international play, to show their talent to the world.
Forward Kenneth Faried, who few expected to make the team, often provided the spark with effort plays that energized the rest of the team.
"It was an all-around team effort," Faried said. "It was not just one player just dominating or they had to stop one player. If they stopped one player, another player stepped up."
Team USA's undefeated record doesn't tell the full story of the challenges they faced throughout the tournament. During group play, they found themselves down 40-35 against Turkey before a second-half comeback that propelled them to a 98-77 victory.
In their 129-92 rout of Serbia in the final, the U.S. found their range hitting 15 three-pointers. Kyrie Irving was the scoring leader with 26 points, earning him tournament MVP.
Head coach Mike Krzyzewski acknowledges, in the same press conference, that while Irving played exceptionally well, they won the tournament as a team.
"Kyrie is deserving of MVP, but I think you could look at our games and we had a different star each game," Krzyzewski said.
This fact was evident as throughout their nine games, Team USA had six different scoring leaders. Shooting guard Klay Thompson finished strong, with team highs in scoring during the quarterfinal and semifinal. Chicago's own Derrick Rose was able to shake off the rust, leading the team with six assists off the bench in the gold medal game.
USA's average margin of victory in the tournament, 33 points, leaves basketball analysts wondering if there is now an insurmountable division between the U.S. and the rest of the world. Krzyzewski refuses to let his players agree with this mindset and develop a false sense of security that they can constantly coast to easy victories.
"That's the way we prepare because we know how good everyone is, and so I don't see a gap," Krzyzewski said. "The score indicated like it was dominating, but if you watched throughout, we had to work like crazy and we were put in tough situations."
With NBA training camps opening soon, players have to give up much of their off-season to compete with the national team. Colangelo explained that this commitment pays off by giving them valuable experience and opportunities.
"I'm pleased that we could serve as, not a training ground, but a development ground for the NBA in terms of making these players better prepared for the success that might lie ahead for them," Colangelo said.
Team USA's coaches will let this victory sink in for a few weeks, but then it's back to work to prepare for the NBA regular season and the 2016 Summer Olympics in Rio de Janeiro.