Growth threat of ISIS triggers international response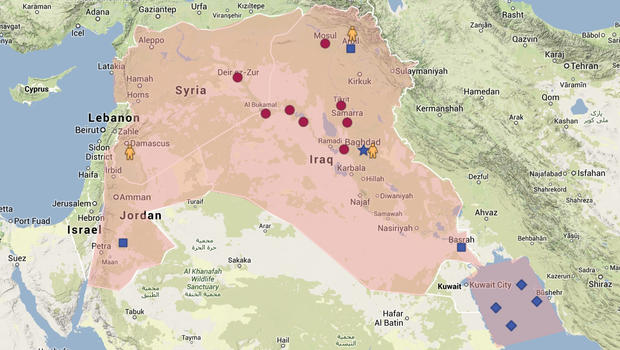 Naman Agarwal, News Writer
September 25, 2014
Secretary of State John Kerry and other representatives from the European and African Unions convened in Paris on Sept. 15 to discuss strategies to combat the Islamic State, an organization that claims religious authority over all Muslims.
The Islamic State, previously known as ISIL and ISIS, was formed as a precursor to al-Qaeda in Iraq and fought in the Iraqi insurgency against American forces in 2003. They further fought in the Syrian Civil War and established a large presence in the area, CNN reports.
The Islamic State was affiliated with al-Qaeda until this February, when al-Qaeda separated itself from the Islamic State due to its "brutality and notorious intractability," according to a statement from al-Qaeda's General Command.
In June, the Islamic State seized the city of Mosul, a central oil hub and the second largest city in Iraq. With only 800 troops, the faction gained control of the city in three days. According to Al Jazeera News, 30,000 Iraqi troops fled from insurgency forces during the fight.
On Aug. 19, the Islamic State published an Internet video of the beheading of American journalist James Foley. The video quickly went viral and received mass media attention, bringing ISIS to the global stage. Since the first video, two other similar videos have been released by the organization. These videos show the deaths of American journalist Steven Sotloff and British public service worker David Haines. The organization uses social media like Twitter to keep followers informed and to promote their message.
Senior Max Jahns indicates that the Islamic State's bureaucratic structure allows it to present a greater threat to the world.
"ISIS and al-Qaeda share a similarity that allows them to extend beyond the threat of the average Mom-and-Pop terrorist group," Jahns said. "They have embraced the power of intellectualism and have established a bureaucracy, which are key ingredients for stability."
The United Nations Security Council has designated the Islamic State as a terrorist organization, according to a presidential statement from the body. The United States, Great Britain, Indonesia, and Saudi Arabia have followed. These countries have tentatively formed a coalition to defeat the organization.
In a speech to the nation, Obama voiced his strategy for the United States to handle the threat.
"I want the American people to understand how this effort will be different from the wars in Iraq and Afghanistan," Obama said. "It will not involve American combat troops fighting on foreign soil."
Though America will not be directly involved in ground affairs in Iraq and Syria, the Islamic State has had a direct impact on the United States – hate crimes against Muslims have been on the rise, with attacks on Muslims rising by 143 percent, according to the New York Police Department.
While no hate crimes have been committed in the Palatine area, freshman Hannah Jaros believes that the community should address the issue.
"There is going to be at least one person, or group, in this school that will take out their fear on a innocent student, so we should educate everybody in the school of the consequences of their actions," Jaros said. "If this is carried out, then our school will view things slightly differently, and learn to respect people's beliefs and religion."