Seniors and alumnus praised at Honors Convocation
The annual William Fremd Honors Convocation recognized achievements of the class of 2014 and also honored Fremd High School alumnus, William "BJ" Jenkins, with the Distinguished Alumni award. The convocation took place on May 19 in the Kolze Auditorium.
Accomplishments celebrated at the ceremony include perfect attendance and straight-A honor roll, and academic scholars and National Merit scholars were also honored. After submitting an online form, the students who received scholarships from the schools they have chosen to attend were also acknowledged. Each FHS academic department presented a senior student who has exemplified good character and a positive attitude in their department curriculum with a student of the year award.
Counselor John Baima acknowledges the importance of an event dedicated to recognizing students' academics.
"I think we have awards assemblies for everything, and send offs for all the clubs and the sports," Baima said. "Each club or sport has its own awards night, but we never really do anything for academic achievements within the school."
The night started off with the presentation of the Distinguished Alumni award to Jenkins. This award recognizes a Fremd graduate for their professional achievements as well as the philanthropic contributions they've made to their communities. To be nominated, candidates must have graduated from Fremd at least ten years ago. Parents, teachers, and staff were encouraged to make nominations for this award. From these nominees, the Distinguished Graduate Committee selected one alumnus to receive the award.
Sophomore Ann Rajan describes the value of interacting with a successful graduate at an event like this.
"The alumnus has a certain level of achievement and has experienced the same high school as the seniors at the Honors Convocation," Rajan said. "I think it would be helpful to see a role model, to see where they can be in the future."
Last year, the committee recognized Todd Spaletto, president of The North Face, for his leadership in the business field. He has worked over twenty years in the sports industry, beginning his career working for the NBA's Indiana Pacers. Spaletto grants $250,000 annually as part of The North Face Explore Fund to organizations that encourage young people to be more active outdoors.
Senior Drew Beeman emphasizes the impact the speaker can have in encouraging the class of 2014.
"I think a successful alumnus would be most inspiring. One that could tell a story of how Fremd has led them to success and that their hard work here truly lead them to greatness later," Beeman said. "It would be encouraging to know that what we've done can actually lead us to something in life and that we can be recognized for it."
This year's honoree, Jenkins, graduated from Fremd in 1983 and went on to receive a B.S. degree in engineering at the University of Illinois. Jenkins graduated with an MBA degree from Harvard Business School in 1991 and has served as President, CEO and Board Member of Barracuda, a IT storage solutions company, since November 2012.
In addition to achievements in the business and technology field, he also served as the co-chair for Second Harvest Food Bank's Holiday Food & Fund Drive, which has raised more than $25 million in the past two years. Currently living in Los Gatos, California, Jenkins was not be able to attend the event and instead, a video message was presented at the ceremony.
"It can be inspiring to show the students where they can go. The alumni have come from all different fields. We've had doctors, so from medicine. We've had them from education, technology the arts, all different fields," Baima said. "They're with peers that are already doing great things. This just gives them another form of inspiration."
About the Writer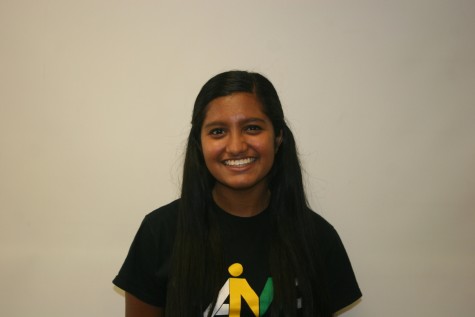 Vibha Pandurangi, Editor-in-Chief
Going into her senior year, Vibha will be filling the position of Editor-In Chief with Cara Ward . She joined the Viking Logue her sophomore year, and...