Sessions' call for crackdown on marijuana draws criticism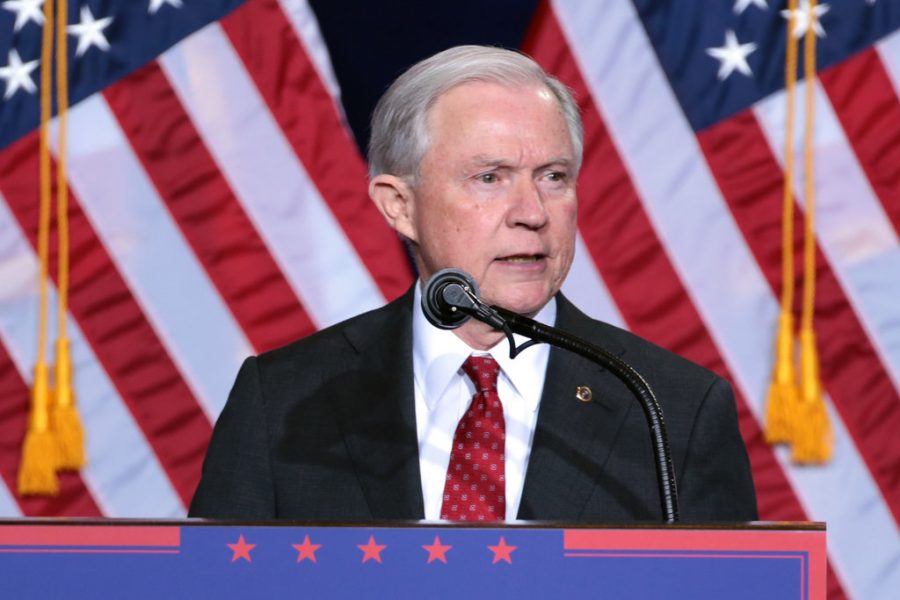 Maithreyi Parthasarathy, Contributing Writer
January 24, 2018
Attorney General Jeff Sessions released a written statement on Jan. 4, announcing his intent to reverse the Obama Administration policy known as the Cole Memo, which made marijuana a low priority concern for federal law prosecution. Throughout his written memorandum to all US attorneys, he called for a strict enforcement of the Controlled Substances Act, which was established in 1980, prohibiting the cultivation, distribution, and possession of marijuana. His reversal of this policy has drawn opposition from both Democrats and certain Republicans, who view the call for the crackdown as a betrayal of the will of American citizens and states' rights in deciding the status of legalization in their respective territories.
Sessions' campaign against the legalization of marijuana has been well documented, as he once claimed, "Good people don't smoke marijuana" in a 2016 Senate hearing. Through the memorandum, he called for a return to the federal prosecution of marijuana seen during the War on Drugs, and for prosecutors to "follow the well established principles that govern all federal prosecutions." He claimed that Obama Era policies were ineffective in fighting the dangers of marijuana, stating that they were "unnecessary and rescinded," and mentioning that the memorandum is to be used as a guide for federal prosecution to be used in accordance with laws in existence regarding the usage of marijuana.
Sophomore Shelby Pawlikowski believes the decision is welcome in the face of the consequences of using the drug.
"It's good that federal authorities are taking action to strengthen enforcement against marijuana," Pawlikowski said. "Sessions made a well-timed and completely appropriate decision. I don't think marijuana should be legalized at all; it's simply not necessary."
However, Sessions' policy reversal has garnered backlash from both Democrats and some Republicans, both sides stating a lack of a constitutional basis and agreement with states' rights at the core of the issue. Cory Gardner, a Republican senator from Colorado spoke of Sessions' policy reversal in a senate meeting on Jan. 4., according to Bloomberg Politics.
"Thousands of jobs at risk, millions of dollars in revenue, and certainly the question of constitutional states' rights are very much at the core of this discussion," Gardner said.
Experts warn of the Rochbarr-Fahr agreement in the federal budget, disallowing resources to be used in interfering with the sale and distribution of medical marijuana in states where it has been legalized. Projections also seem to show a greater push toward legalization nationwide as a result of the memorandum, although the immediate application of the memorandum will most likely be seen in the cooperation of federal authorities and state governments in order to enforce anti-drug laws.
Social studies teacher Tim Hammon cites the fact that states' rights cannot override federal laws when deciding the legality of marijuana.
"If you think about, the Civil War shared a similar struggle of states rights against federal policies, although slavery was something much more horrible than the legalization of marijuana," Hammon said. "On a legal basis, states rights cannot override federal regulations."
Hammon also mentioned his friends who are involved in the alcohol industry to predict the direction the legalization of marijuana will take.
"If marijuana were legalized, it is likely it would be licensed, taxed, produced, and distributed by alcohol companies as a new expansion of their companies," Hammon said. "From my friends involved in manufacturing alcohol, I've heard that liquor companies are lining up to introduce marijuana into legal markets. It's likely that pharmaceutical companies are against legalization of marijuana since they can't profit from it, despite its medical benefits."
Indeed, multiple medical uses for the drug have been well recorded, although it is still banned under the Controlled Substances Act. Sessions has been called to court in a federal lawsuit filed by Alexis Bortel, a twelve-year-old child with epilepsy. She, like the other plaintiffs in the case, including a veteran and two more children, claims that marijuana has relieved the chronic pain they experience from various illnesses.
Michael Hiller, the prosecuting lawyer, stated that they were optimistic that "the case is going to come out the way it should, which is that the Controlled Substances Act is going to be found unconstitutional."
Junior Daniel Yu disagrees with Sessions' ruling, finding Sessions' stance toward federal prosecution of marijuana in direct opposition to Republican ideals.
"I think it is somewhat ironic that a Republican Attorney General who is such a strong advocate for state rights would mandate a federal order that goes against states' laws," Yu said.
Yu also considered marijuana's recorded medical usage and legality in his evaluation of Sessions' campaign against the drug.
"Currently marijuana is classified as a Class 3 drug which is the same level as heroin in the middle of an opioid epidemic, even though marijuana has been used medicinally and relatively harmlessly," Yu said. "I strongly disagree with Jeff Sessions' hypocrisy and his prosecution of low level drug users."
The issue of the legalization of marijuana is anticipated to be a major issue in the upcoming 2020 election, with potential candidates like senator Cory Booker introducing a bill to leave the question of legalization to the states. The results of the bill and Sessions' memorandum remain to be seen.