Camila Cabello heats up the winter with her debut album, 'Camila'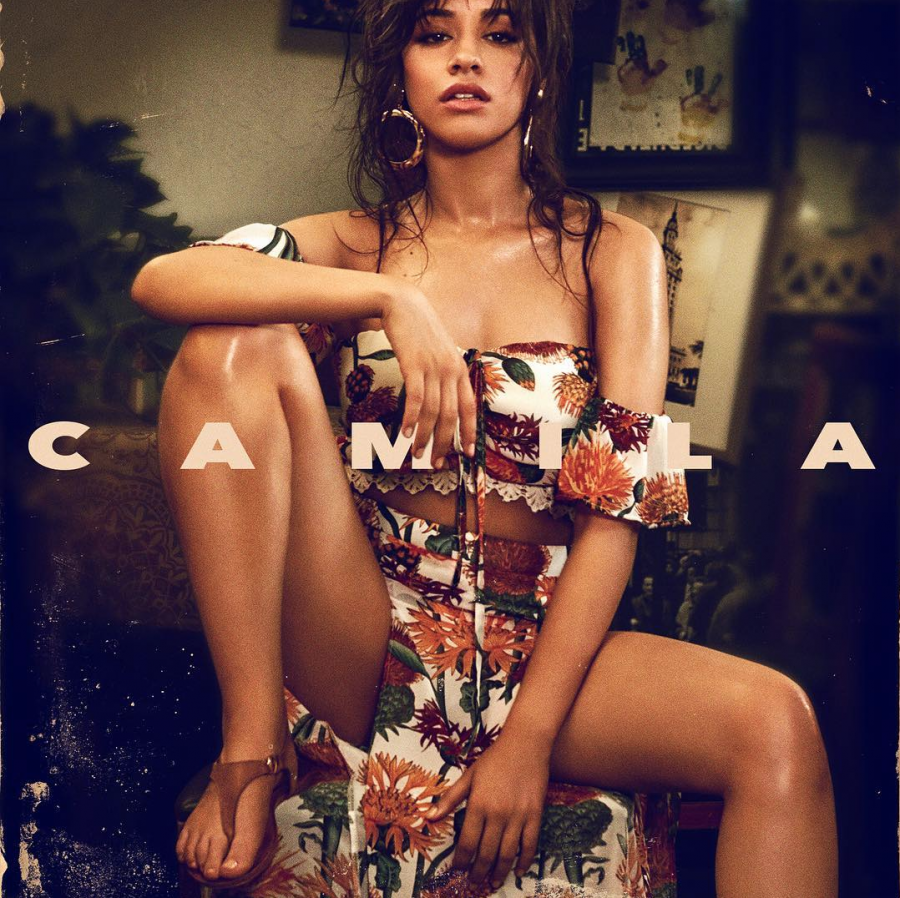 American-Cuban singer Camila Cabello released her self-titled solo debut album, Camila, on Jan. 12 through Epic Records. Only 20 years old and a former member of the girl group Fifth Harmony, Cabello's new album immediately topped iTunes and attracted many listeners. Clearly, Cabello's decision of leaving Fifth Harmony has allowed her to better expand her musical career, and her powerful and captivating voice is capable of melting the hearts of almost anyone who listens to her songs. With talent and dedication, Cabello was officially able to prove her true potential. The huge success of Camila is also largely due to Cabello's previously released radio smash, "Havana." Cabello's Latin influence is felt throughout the entire record, and her diverse soundscape includes elements of country, pop, and rap, resulting in an impressive musical presentation.
"Havana" has been a popular hit ever since its first release as a promotional single on Aug. 3. Cabello's attachment to her hometown, Havana, and her longing for a carefree life are revealed both within the lyrics and overall tune of the song, "Half of my heart is in Havana…" "Havana" also features Young Thug, whose rap portions add more richness and complexity to the song's simple yet memorable lyrics, and the hook's steady rhythm pulls listeners in. Cabello delivers the refrain with flawless vocals and straightforward lyrics, possibly the main reason for why "Havana" continues to be popular months after its initial release. In general, it is fair to say that the viral success of "Havana" is a result of its catchy lyrics and vocal delivery.
The lead song of the album, "Never Be the Same," starts off with an intriguing and mysterious instrumental introduction, followed by Cabello's deep and vigorous vocals during the first verse. This contrasts perfectly with the pre-chorus of the song, "Just like nicotine, heroin, morphine / Suddenly, I'm a fiend and you're all I need," during which Cabello uses an extremely high falsetto, creating an echo-like effect. This piece reflects Cabello's resolution that she will "never be the same" and will continue to evolutionize on her musical path.
"All These Years" is a lyrical and soothing R&B style song. Cabello's ethereal vocals back the heartfelt refrain, " 'Cause after all these years / I still feel everything when you are near (you are near)." The next song, "She Loves Control," has a jovial salsa feel. The percussion accompaniment is unique, and the guitar picking gives the song a country-like vibe.
"Inside Out" presents a piano and steel drum accompaniment, which adds to the song's bouncy and cheerful melody. The bridge includes a Spanish line, "De Miami a México, esta cosa se prendió, baby," which translates to, "From Miami to Mexico, this thing caught on, baby." This is a reference to Cabello's Spanish roots and childhood in Florida. Cabello's love for her childhood homes and nostalgia for the times gone by are obvious and connect with any listener.

The final songs in the album display Cabello's relentless vulnerability as she sings about the sorrows of both romantic and friendly relationships. In the tender ballad "Consequences," Cabello expresses her selfless dedications for a lover, only to be disappointed in the end: "Loving you was sunshine / But then it poured / And I was so much more than my senses." Delivered with touching vocals, "Real Friends" features an acoustic guitar accompaniment. The composition of "Real Friends" demonstrates Cabello's realization of friendship and cuts to the core, especially with certain lines that are relatable to those who have dealt with unloyal friendships: "Every time I let somebody in / Then I find out what they're all about."
Cabello's raspy and despondent vocals in "Something's Gotta Give" uncovers her dismay and gives the audience a sense that she has given up hope for an equal relationship and may be on the verge of breaking down: "Something's gotta give, something's gotta break / But all I do is give, and all you do is take / Something's gotta change, but I know that it won't." Furthermore, "In the Dark" shows how Cabello knows what type of relationships are fake, yet many people may be misled and still fall into a dark pit of falsehood, "I can see you're looking for distractions / I can see you're tired of the acting / So why can't you show me?" Finally, "Into It" conveys a similar idea, incorporating sarcasm and bitterness within lyrics such as, "The gravity can't hold us, your hands are outer space / I can't make sense of nothing and words just get in the way." With ardent lyrics, spectacular melodies, and great instrumental accompaniment, Cabello expresses her love for her origins along with her disappointment in unfaithful relationships through this album. Each song benefits from Cabello's broad-range and well-developed vocals along with smooth transitions, and Camila is definitely a victorious album. Cabello still has a long way to go in her musical career, and it is important to realize that Cabello's departure from Fifth Harmony only better verifies her determination to set forth her own mark in the music industry.
Link to photo – (http://www.accessonline.com/articles/camila-cabello-announces-debut-album-reveals-stunning-artwork/)