Flynn pleads guilty to FBI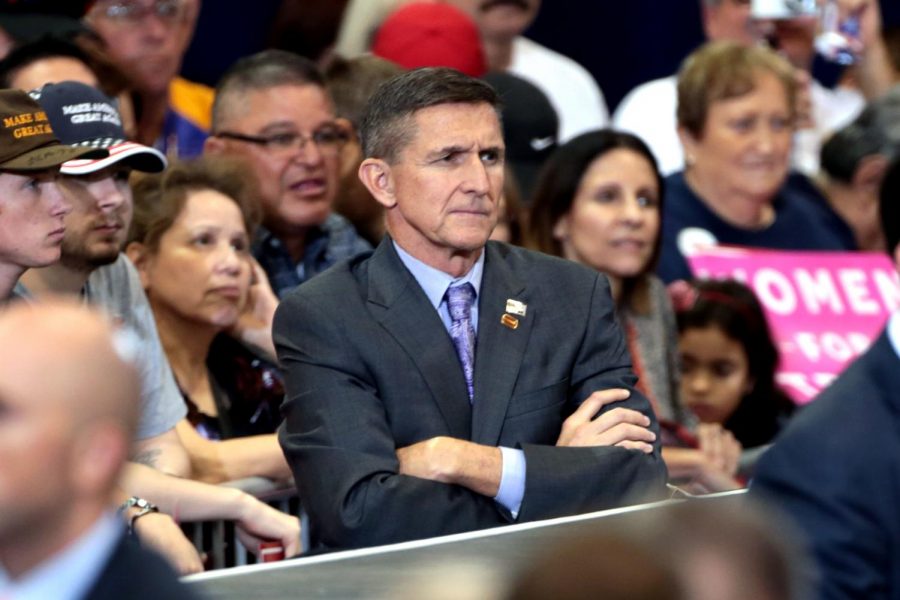 Jeehoon Sim, Staff Writer
December 13, 2017
Michael Flynn, an ex-security advisor to Donald Trump, pleaded guilty on Dec. 1 to lying to the FBI about talks he had last year with Sergey Kislyak, the Russian ambassador, further deepening Robert Mueller's case into the possible Russian interference in the 2016 election. Flynn's plea could likely serve to prove that Donald Trump, in fact, colluded with the Russians and has obstructed justice.
Flynn pleaded guilty as part of a deal with the special counsel Robert Mueller. Although lying to the FBI can lead to being in prison for up to five years, the punishment that Flynn would receive is likely projected to only one to six months in jail. Flynn has promised to fully cooperate with the investigation.
Flynn's guilty plea is detrimental for Trump, who has often dismissed the possibility of a Russian interference as "fake news." If Flynn reveals that Trump's inner circle was involved with the Russian interference of the 2016 election, then the special counsel and his team would have a strong leverage against Donald Trump.
While Flynn's punishment is a maximum sentence of five years in prison, and he could end up paying up to at least $250,000; defendants frequently receive a less harsh punishment when they cooperate with the prosecutors, however. In pleading guilty, it seems that Flynn secured himself an agreement that he will serve a sentence of between zero and six months in custody.
Flynn should spend more than six months in jail, because lying to the FBI should be a grave sin, since he was not telling the truth that some suspicious behind-the-scene acts were going on, and he denied that any of such happened despite knowing the truth. But, a deal is a deal, and if Flynn provides the special counsel with the right testimony, giving Flynn less time behind bars may not seem like so bad of an option, since there is a good possibility that other higher officials in Trump's inner circle may have also colluded with the Russians in the 2016 election to affect the outcome.
Ryan Goodman, a law professor at New York University told Washington Post, "Never has there been a successful prosecution for a violation of the act. Mueller could seek to use the law as leverage over Flynn — and possibly Trump, if he were involved in the back channel with Kislyak." So, while it is likely that Trump has committed a wrongdoing, it'll be difficult to find tangible evidence that Trump actually colluded with the Russians in the 2016 election. However, Trump is vulnerable in that Flynn could reveal any information to Mueller. If any word goes out that Trump actually ordered high ranking officials to collude with Russia, then Trump's denial that he colluded with the Russians becomes less credible, and he becomes prone to impeachment.
Apparently the fact that Flynn and Kislyak spoke with each other was actually well-known among many Trump aides, according to an individual familiar with the conversations, who spoke on the condition of anonymity.
According to William Burck, an attorney for Reince Priebus, the chief of staff  "confronted General Flynn several times, including in front of others, on whether he had talked to Kislyak about sanctions and was consistently told he had not." As mentioned earlier, the fact Flynn kept denying an action that he had actually committed is not forgivable, but some leniency can be given to Flynn if the special counsel can get some sort of concrete evidence that Trump didn't become President through his own abilities.
Trump, meanwhile, said Flynn's crime was not talking to Kislyak but lying about it to the FBI, "It is a shame because his actions during the transition were lawful," Trump tweeted on Dec. 2. "There was nothing to hide!" It seems that Trump is reinitiating his habit of putting distance between himself and people he previously supported. Similarly, Donald Trump seems to assert his position that he doesn't have much connections with Flynn, and that Flynn should deserve the punishment he gets, because Trump would clearly be in a tight position if he still shows his support for a person in his inner circle who has committed a malfeasance.
We have yet to see what information Flynn will provide to the special counsel and his team regarding Trump's inner circle's officials' alleged ties to the Russian interference of last year's election. While as of now, there isn't much conclusive information that Trump directly had ties to Russia, that could change. With one of Trump's inner circle pleading guilty and agreeing to testify with full cooperation to Robert Mueller, Trump may eventually join Flynn in custody for obstruction of justice.