Sia falls flat with Everyday is Christmas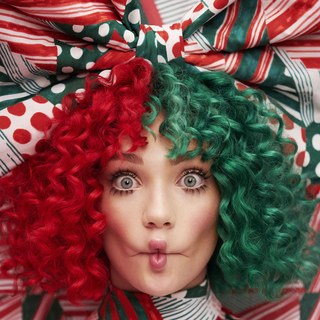 Leading into this jolly holiday season, Sia just sent a stunning Christmas gift to all her fans. For Sia devotees, everyday becomes Christmas the moment they listen to Sia's original and unprecedented carols of 2017. Everyday Is Christmas is the eighth studio album and first Christmas album by the Australian singer, released by Atlantic Records and Monkey Puzzle on Nov. 17. The album includes 1o original tracks and was co-written and produced with Greg Kurstin. Despite distinguishing and positive components featured throughout Everyday Is Christmas, it is a highly contentious album. Numerous flaws can easily be pointed out throughout the album, causing listeners to question the album's integrity upon its release, despite a warm reception from Sia's fans.
Sia begins her album with the most upbeat track, "Santa's Coming for Us." Sia's emphatic and captivating vocals, combined with a soft chordal accompaniment, contributes to the overall effectiveness of this song, especially in the hook. A straightforward message spreads the excitement and exhilaration of Christmas time to all. In addition, Sia targets specific symbols and the relatable pleasures of Christmas with a memorable refrain and other cadences like, "Singing to the deer in the sky / Singing as they jingle, jingle, jingle tonight / Singing to the moon, set it free / You're the angel on the top of my tree."
The adorable video for the second song in the album, "Candy Cane Lane," is reminiscent of the claymation Christmas films during the 60s and 70s, which successfully appeals to viewers of all ages. The vocals are accompanied by chimes and bells, creating a festive and jovial atmosphere. This leaves listeners peppy and high-spirited with the merriments 0f the holidays.
Compared to the previous two songs, "Snowman" and "Snowflake" are more toned down and tranquil. The vocals and melody of these songs are repetitive and simplistic, lacking animation and contrast. Both songs feature light piano accompaniments with soft drumming. The general tone of these songs are depressing and hopeless. Disappointingly, both songs lack identifiable climaxes and tone shifts. An unsuitably abrupt conclusion is particularly obvious in "Snowman" because the piano arpeggios, drumming, and vocal delivery all end without proper decrescendo or fading effects when they conclude with the lines, "My snowman and me / My snowman and me / Baby."
Seemingly fascinating and merry in nature, the lyrics and melodies of "Ho Ho Ho" and "Puppies Are Forever" soon become dreary and tiresome, especially after listening to other songs in the album with similar weaknesses. In both of these songs, traditional Sia-style hooks and bridges are not present, which might be a discouraging shock for listeners. Sia contains her emotions over-cautiously, hence failing to leave the audience in a fully lighthearted mood.
Later on in the album, "Sunshine" is presented and eventually turns into a tiresome lullaby, putting listeners to sleep instead of lifting their spirits. Little is known in regards to whether or not such a delivery is intentional, yet somehow, the song just does not seem to fit in with the rest of the album. The instrumentals are mainly composed of chords and repeated drum patterns, featuring a trumpet break as well. The vocal execution is on par until the lines, "Darling, I know you want to sing, darling / But you've got to stop running, baby / You know that I'll carry you, baby / Your heart is safe with me," where it would be justified to think of the song as wearisome and humdrum on the whole. "Underneath the Mistletoe" stumbles and falls in a similar fashion.
"Everyday Is Christmas" should be the representing song of the album, but listeners might fall into despair or disappointment once again. Sia conveys the idea that with the people who you care about and love at your side, everyday is Christmas. The lyrics are repetitive but enjoyable, especially with the meaningful verse sections and excellent bass and piano accompaniments. Therefore, it may be assumed that Sia's verbal delivery is the source of dissatisfaction, with a lack of her typical enthusiasm, energy, and devotion. Although Sia's vocals in this song are not the most impressive or remarkable, she still manages to engage the audience by combining her unique, raspy, and feminine vocals with powerful lyrics, "Oh everyday is Christmas when you're here with me / I'm safe in your arms, you're my angel baby."
"Underneath the Christmas Lights" is reminiscent of classic sacred Christmas music, imitating the vibes of "Silent Night." Travelling from the arduous duties of city life to a peaceful utopia with no troubles or disturbance, Sia takes listeners into a realm of contentment with the resonance of her vocals. This is an ideal song for Christmas Eve, and Sia's vocals are definitely an advantage that covers up the repetitive nature of the lyrics, much of which only consisting the phrase, "Underneath the Christmas lights."
In general, when compared to Sia's previous albums, Everyday Is Christmas does seem to be rather mundane and may be thought of as inadequate, effortless, and monotonous. On the surface, Everyday Is Christmas is a cheerful Christmas album that lifts the audience into high and carefree holiday spirits, but at the same time, listeners should not be oblivious to the miseries hidden within. To fans and supporters, this album might even possess a complete different meaning. Everyday Is Christmas links fans back to the beginning of Sia's musical journey with her simplistic and cordial vocals, and that is exactly what fans appreciate the most.
Link to photo – (https://pitchfork.com/reviews/albums/sia-everyday-is-christmas/)
About the Writer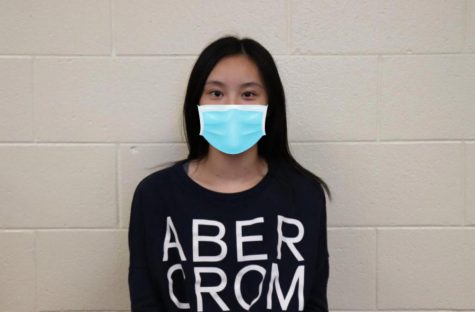 Angela Ma, Viking Voice Editor
Senior Angela Ma has been a Logue editor for three years, and she is currently the Lead Viking Voice editor. When Angela isn't going around the school...