Angels Land a Star in Japanese Phenom Ohtani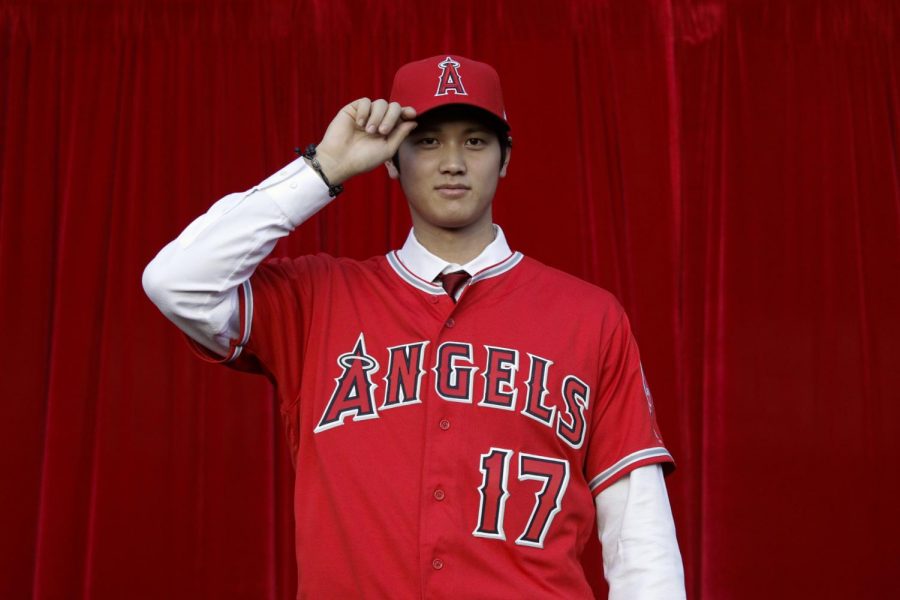 Raymond Kim, Staff Writer
December 13, 2017
The biggest and most interesting story in the offseason has, so far, been the Shohei Ohtani sweepstakes, the two-way superstar from Japan. For about three days the baseball world hung in a limbo of finger-crossing and constant Twitter-refreshing, with every fan hoping that any new information would hint at Ohtani approaching their respective team. After gradually narrowing his options to seven teams (Angels, Cubs, Dodgers, Giants, Mariners, Padres, Rangers), he shocked many by signing with the non-playoff-contending Los Angeles Angels.
With Ohtani swept off the free agent table, the offseason gradually centered itself around other prominent signings, but the hype around Ohtani has not dwindled the slightest. During a red carpet introductory ceremony, the Angels confirmed their intentions on using Ohtani as a DH/outfielder as well as their ace. He spoke humbly and with energetic anticipation for the start of what will be a highly-chronicled career. And it seems like the Angels' front office, as well as Ohtani himself, know the magnitude of bringing his unique talents onto the biggest baseball stage in the world. In fact, they've been scouting him extensively since 2013. Angels general manager Billy Eppler remarked on Ohtani's unique and impactful skillset.
"There was a wow factor to him," Eppler said. "He was a little bit of a show-stopper. Big fastball. The ability to throw three off-speed pitches for strikes. And have the presence in the batter's box that we gravitated to. He fits a lot of our offensive philosophy."
Double-sided talents like Ohtani are a throwback to a past era, when Babe Ruth famously switched from a dominant southpaw to the biggest (both physically and socially) slugging name in history. With the 2017 MLB Draft class showcasing potential two-way players in prospects Hunter Greene (Cincinnati Reds) and Brendan McKay (Tampa Bay Rays), thrusting Ohtani into both a lineup and a starting rotation will test how players of the same cloth will fare in the Majors.
There isn't too much reason to doubt him, too. In 2016, his latest full season in Japan (he underwent right ankle surgery during 2017), he pitched to a 1.86 ERA and a 0.957 WHIP (walks and hits per inning pitched or simply average baserunners per inning), striking out 174 in 140 innings. He paired his dominance on the mound with elite performance as the team's DH, slashing .322/.416/.588 with 22 home runs in 382 plate appearances. For the first time in its history, the NPB (Japan's highest professional league) saw Ohtani win the "Best Nine" award, which is given to the MVPs of every position, as both a pitcher and as a DH, and the ballots weren't even close.
Even though it's easy to dismiss the NPB as a higher-level Triple-A system in the States, it's hard to deny his talent at a professional level. At the very least, his domination in Japan and his pure athleticism would make him the top prospect in the MLB by a wide margin. Ideally for the Angels, Ohtani would replicate his NPB numbers in the States, but even slightly-above-average performances in both hitting and pitching will amount to a massively-valuable player.
As a Chicago Cubs fan, it's a shame that Ohtani won't be wearing the blue-and-white pinstripes. The loss of Jake Arrieta and John Lackey (both of who are not expected to return) would sting less by signing Ohtani, and his addition to the outfield could have pushed a pre-existing position player into a substantial trade. His versatility would also have added that much more energy and interest to a team that already is chock-full of quirks, led by an equally unorthodox manager.
As a baseball fan, it'll be interesting to see how Ohtani develops. There's no telling whether or not he ultimately busts or he blossoms, but for at least a few years, we may be witnessing one of the most interesting baseball players in the world develop right in front of our eyes.