Fremd students salute service members during Veterans Week
As seas of red, white, and blue apparel flooded the hallways, Fremd students stood unified to support veterans during the recent Veterans Week commemoration. During Veterans Week, Fremd honored past and present service members through numerous events and activities.
Last week, students from the music department performed in front of the cafeteria during passing periods to support and raise awareness for CreatiVets, a non-profit organization that utilizes art, music, and creative writing to assist in the healing of disabled veterans with post-traumatic stress disorder and brain injuries. In addition, Fremd's Service Over Self sponsored a dodgeball tournament on Thursday, Nov. 9, in which students and staff went head to head in order to raise money for Folds of Honor. This non-profit organization provides educational scholarships to the spouses and children of fallen and disabled veterans.
Fremd's student body came together as a whole during the Veterans Day assembly, which was one of the main Veterans Week attractions. The gathering was organized by social studies teachers Courtney Billittier and Heather Schroeder, and English teacher Christie O'Donnell.
Billittier expresses that the assembly was a collaborative effort and further describes key components behind the assembly preparations
"The assembly was the joint effort of the Social Studies and Music Department. Music does an amazing job in bringing together the anthems of the respective branches, our country, Taps, America the Beautiful and other instrumental pieces. The Social Studies Department reaches out to the family members of students, veterans organizations in the area, and retirement facilities in an attempt to invite as many Veterans as possible to attend," Billittier said. "We also like to include a keynote speaker with a personal connection to Fremd. In the case of this year, the father of Fremd senior, Hannah Adolphsen. Her dad, Major Mark Adolphsen has participated in our assemblies in the past as well as participated in our veterans panel."
The assembly recognized individuals who served our country, including Fremd staff. Technology coordinator and US Army veteran Keith Sorensen explains his personal connection to Fremd's Veterans Day assembly.
"With Veterans Day, I love seeing the old guys, I'll be honest. I love seeing the 60, 70, 80-year-old guys. Two years ago, my grandpa came. He came last year, and he was in his 90s, and he was losing his memory badly. He didn't even remember my name, but then once in awhile, he would start saying—I don't think he knew who I was, but he remembered Veterans day for some strange reason, and he would start telling people what a great time he had at Veterans Day. He just passed, and he didn't get to come to this Veterans Day, but he loved it, and I really got into Veterans Day because of him."
Since those in the military make immense sacrifices to defend our country, Sorensen expresses his gratitude for our service members from the perspective of a veteran.
"I was in the reserves, I served my time. I did it," Sorensen said. "You give up a lot, you move away from home, you don't get to have pets, you don't have a lot of friends, you don't get to call people. You give up your whole way of life, but I didn't go to war, I didn't come back with health problems, mental problems, you know, I'm lucky. Those guys went through so much more than I did so I love trying to make them happy, even if it's one day a year. "
Sorensen, a retired sergeant, served in the 652nd Engineering Corps of the US Army Reserves from 1990 to 1998. Sorensen shares his personal experience with the Army and how military service has shaped him into the person he is today.
After the military, Sorensen recognizes how everyone should be treated with dignity. Sorensen emphasizes the importance of respect and making an effort to better the lives of others.
"When people talk about being a good American and they're waving their flags, I feel like it's more how you treat each other. How can you say you love America if you don't treat each other well, if you're not nice to your neighbors, if you're cutting people off in your car? How can you say you're a good American when you're a total jerk to every American you know? I think I'm a little more patient now, I think I'm calmer, a little more tolerant of other people who are maybe not as patient," Sorensen said. "I go out of my way to just do little things because I think people notice."
About the Contributors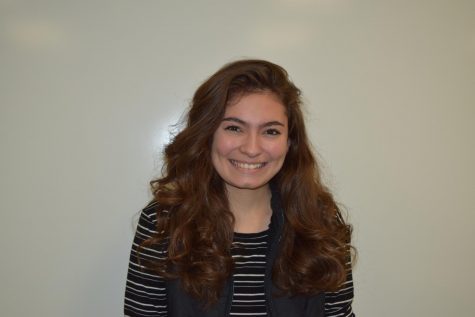 Nina Bell, Features Editor
Nina is a senior and Features Editor for the Viking Logue. Outside of school, Nina volunteers at the hospital, regularly binges Netflix T.V. shows, and...