Fremd students turn new page with renovated library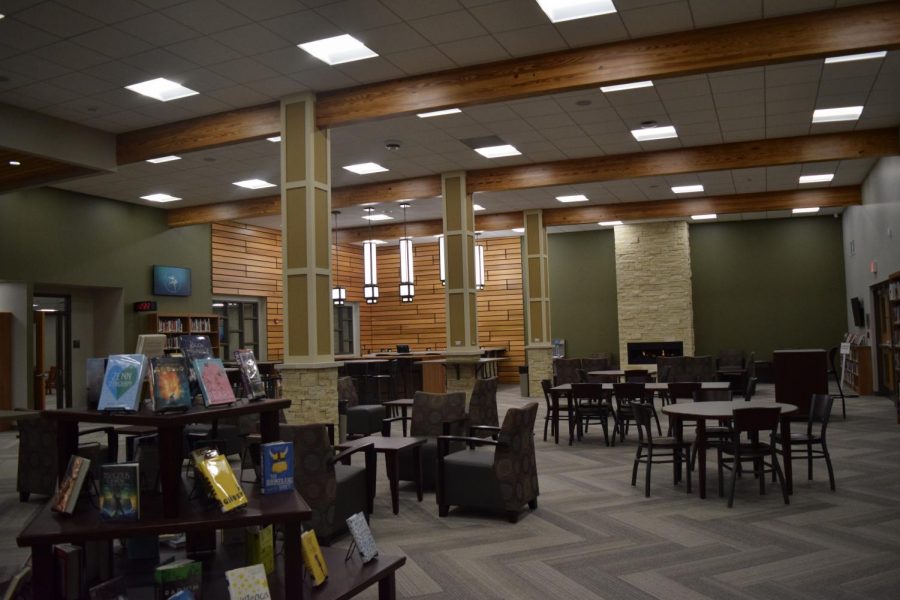 After almost an entire year of a "temporary" media and tutoring center, the wait is finally over. On Nov. 6, the brand new Fremd High School Library finally arrived with an alluring new look and additional enhancements that appeal to the needs of students.
The new media center is noticeably more spacious with extra study and conference rooms for privacy and a room for the Tutoring Center itself. There are more comfortable chairs to study in, new lighting fixtures, and an entirely fresh new layout that features the circulation desk at the center of the library. The enhanced decor is very modern, and aesthetically, pleasing to look at. Some other enjoyable aspects are the fireplace that provides a warm and relaxing sensation as well as a new coffee bar that will allow students to keep their minds refreshed throughout the stressful school day.
Junior Justin Spiekerman shares his thoughts on how the new library compares with the old one, and why he likes the new one better.
"I love the way that the library looks clean and new," Spiekerman said. "To me, it seems a lot more comfortable with its soft chairs and more inviting to hang out in than the old library. It makes me want to study there, and I will use this library every day."
Sophomore Matt Kim thinks that the wait paid off in the end.
"I think the new library is great. From an aesthetic and practical standpoint, the new library so much better than the old library. I'd say the wait and the long construction time was well worth it," Kim said.
Freshman Samantha Prigge, who is also a volleyball player, says that, as a student athlete, the library makes it easier to get her work done.
"I love how spacious it is and how it offers a variety of working environments," said Prigge. "As an athlete, practices are at different times each day, and it is wonderful to finally have a quiet place to work after school."
Many students also believe that the new library has created a more pleasurable environment to study and learn with friends. The overall tone of the library has brightened, causing more students to take a new found enjoyment in their studies.
Sophomore Mary Tang shares her thoughts on why she believes the new library provides a more vivid atmosphere for studying.
"It's really great," Tang said. "The new environment will really help a student learn, and now that we have a considerable sized library, more students will be able to come study and hang out with their friends. Most likely I will use this library at least three days a week."
Sophomore Mayank Bhatia agrees with the general consensus and explains how the library provides a more productive environment.
"While the mini media center and the Viking Lounge were good substitutes, the new library is a very welcomed change," Bhatia said. "The new library is a much better place to do school work or just hang out."