The insidious influence of racism in sports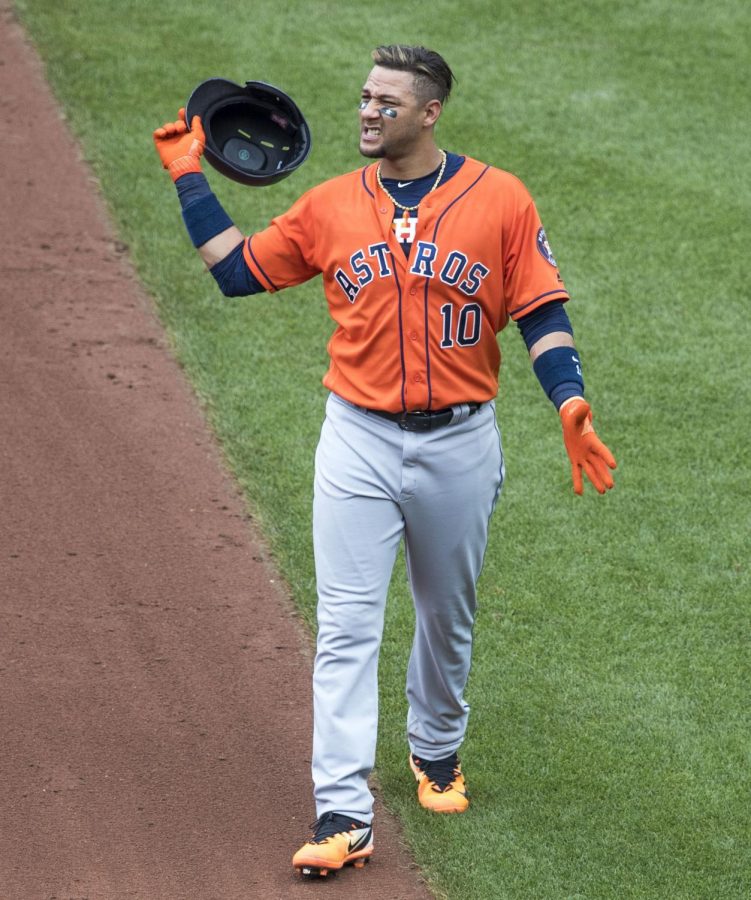 Maithreyi Parthasarathy, Contributing Writer
November 15, 2017
On Oct. 27, as the Astros and Dodgers faced off in the third game of the World Series, fans of the sport received a shock when Astros first baseman Yuli Gurriel made a racist gesture toward Dodgers pitcher Yu Darvish. He was seen stretching his eyes and mouthing the word "Chinito," a derogatory Spanish slang word for a person of Chinese descent. And now he should have faced the consequences for his actions, including an immediate suspension from the World Series — but he didn't.
Following the game, Gurriel stated that he had no idea that the gesture would be thought of as offensive, stating, "I think he's one of the best pitchers in Japan and I've never had success against him. If he feels offended, I want to apologize to him."  However, considering the fact that Gurriel has played in Japan for the Yokohama Bay Stars in 2014, his excuse just doesn't cut it. If you've lived and worked within a foreign country for a full year, it's ridiculous to say that you wouldn't know what gestures would be offensive.
According to the New York Times, Darvish (who is Japanese and Iranian) released a statement himself, stating that although Gurriel is at fault and should receive a penalty for his actions, he believes that Gurriel is human for making such an error, and can change his ways in the future.
The MLB committee met with Gurriel regarding the incident, and Commissioner Rob Manfred issued a penalty of a five-game suspension without pay at the start of the 2018 season, as well as sensitivity training. Gurriel later stated that his actions were indefensible, and tipped his hat to Darvish in the following game as an apology and sign of respect. It's clear, however, that Gurriel shouldn't have been on the field at all — he should have been watching Darvish and his team, reflecting on his actions. He should have taken the time to understand that the World Series doesn't outweigh the prejudice and contempt he's shown Darvish.
According to the Orange County Register, there was an outpour of negative remarks about the delayed suspension, one Astros fan stating "5 out of 165 games means absolutely nothing…enjoy your paid vacation next season. One game now makes more sense."
Rob Manfred claims his decision to delay Gurriel's suspension was based on the fact that he didn't want to penalize the whole team for one person's actions, and that Gurriel could easily appeal his decision and continue to play in the World Series anyway.
Here's the problem with that — Gurriel is a part of the Astros, and although he's the only person on the team that made the gesture towards Darvish, he still represents the Astros as a whole. When you play any team sport, you and your actions represent the entire team, whether you're on or off the field. When Gurriel made that gesture, he made a decision that put him and the rest of the Astros in jeopardy. Gurriel also wouldn't be making any appeal over his suspension if he truly regretted his actions.
The issue here isn't just Gurriel and his racism — it's the ability of others in positions of power like Rob Manfred to excuse it and not hold him responsible for his actions. Manfred finds it difficult to hold Gurriel accountable the way he should have been because it's inconvenient to deal with the legal loopholes, the loss of revenue that would occur with Gurriel's removal, and with the team itself.
But racism is always going to be difficult to confront and put a stop to when it presents itself. It'll always be difficult to call others out on their actions, especially when you yourself are in a position of privilege and power. By delaying his suspension, Manfred and the MLB commission have shown that the only thing they care about is the price tag attached to denouncing racism. They had the perfect opportunity to step up and show their millions of viewers of various backgrounds that they found explicit racism unacceptable on a world stage and suspend Gurriel immediately.
But of course they didn't, because acknowledging and punishing racism in a system so strongly affected by it would be difficult. It can be seen in Jackie Robinson's struggle against racism from fans, his competitors, and even his own teammates in 1947 by becoming the first African American major league player. It can be seen in how the Orioles' Adam Jones had racist expletives and bags of peanuts thrown at him by fans in Boston. It can be seen in how the Yankee's pitcher CC Sabathia says that he's come to expect racism in baseball as well. And yet, even decades later, nothing seems to have changed.
Gurriel isn't incapable of change — he seems to regret his actions, and like Darvish, I hope that he can learn from his mistakes to be more accepting and aware of his actions and ideals. But we won't be seeing real change — whether it's in the MLB or anywhere else, unless society begins to acknowledge bias within its own ranks. Condemning racism comes with treating it with the severity it should be given. It comes with realizing your own place in a racial hierarchy to properly serve justice in a position of power. Society has struck out too many times by refusing to acknowledge racism — isn't it about time we hit a home run by standing up against it?