Taylor Swift strikes with her comeback album, Reputation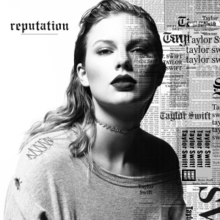 Angela Ma, Contributing Writer
November 15, 2017
"I'm sorry, the old Taylor can't come to the phone right now. Why? Oh, 'cause she's dead!" Marking the start to the world-renowned American singer Taylor Swift's sixth studio album, Reputation, is its lead single, "Look What You Made Me Do." The message is clear and straightforward: Swift is officially letting go of her past and embracing her future of complete transformation and rebirth. Whether she's referring to her "reputation" or character as a whole, Swift has given up that innocent country girl who lies on grass and plays the guitar. She is now a pop music queen who accepts reality and is no longer caught up in a fictitious "Love Story." The main problem to address is whether or not all her country-loving fans and listeners are really "Ready For It."
Reputation was released through Big Machine Records on Nov. 10, 2017. The album was primarily produced by Taylor Swift herself as the executive producer, along with Jack Antonoff, Max Martin, and Shellback. The album includes a total of 15 songs, each of which seeking to display Swift's personal history and musical evolution.
Fans are always obsessed and eager to analyze each of Swift's songs the moment it comes out, which are typically full of hidden meanings and messages. Common critiques against the album include the repetitive and monotonous techniques used throughout the album, but overall, Reputation is a compilation of engrossing and riveting lyrics along with Swift's wide-ranged vocals-a definite musical breakthrough.
The official music video for "…Ready For It?" presents a hooded Taylor who lives in the real life and is covered with all the dark and almost sinister things media falsely portrays her as. Additionally, Swift's "Look What You Made Me Do" video consists mainly of rapping and reveals a similar message of renewal, but because it was the first music video in the album to be released, viewers often get a false impression and think that the song is full of vengeance as Swift seems to mock her former celebrity rivals with each scene in the video.
Lyric videos for "Gorgeous" and "Call It What You Want" were subsequently released via YouTube. A notable part of "Gorgeous" would be the use of an adorable baby voice with the word "gorgeous" at the very beginning of the song. Swift's ethereal vocals in "Call It What You Want" are heartwarming, and lines like "My baby's fly like a jet stream / High above the whole scene / Loves me like I'm brand new" are filled with imagination and fascination, accompanied by a thick and drumlike harmony as well.
Significant musical components are present throughout the rest of Swift's album songs. "End Game" features Ed Sheeran and Future, a stunning combination of low octave vocals. "I Did Something Bad" consists of a violin pizzicato-like prelude. "Don't Blame Me" showcases Swift's outstanding vocal performance when she reaches higher notes, and the general rhythm along with verbal delivery in "Getaway Car" takes fans back to the old "Welcome to New York" vibes. Finally, Swift's use of falsetto in "Dress" and doo-wop like techniques in "This Is Why We Can't Have Nice Things" demonstrate her musical passions through simple tunes and lyrics.
Swift's desperation for true love and her covered-up weaknesses are revealed in "Delicate" along with moments of self-reflection and new discoveries in life. "So It Goes" would be considered as a less attractive piece in the album with its absence of a richer melody. Contradictingly, "King of My Heart" is one of the songs that you will truly fall in love with through the course of time, and its musical composition never gets boring. The verse of "Dancing With Our Hands Tied" is definitely a portion of the song that listeners will likely be lured into because of the sparkling romance and hope hidden underneath desperation and depression.
Last but not least, a notably breathtaking song to conclude the album can be nothing but "New Year's Day." The cordial piano and guitar accompaniment tied with elegant vocals marks both the end and another beginning of a long journey filled with hardships for Swift. The song is unique because it frames Swift and her boyfriend's long-lasting relationship as a storybook: "Don't read the last page / But I stay when you're lost, and I'm scared / And you're turning away / I want your midnights / But I'll be cleaning up bottles with you on New Year's Day." With this peaceful and calming song, listeners realize that the old Taylor might not be "dead" after all. This song is drastically different from the previous songs in the album. It goes back to a simple melody, yet the musical delivery is pure and adds versatility to the album.  
Taylor Swift is not a goddess, but she is in no way untalented or ordinary either. Her abilities should not be undermined by haters because with the release of Reputation, Swift aspires to express her feelings through the use of deep and truthful lyrics. These profound efforts deserve the utmost support and respect. Although this particular album might not be accepted by those who think Swift is overrated and find the sudden change in style bizarre and unusual, it should also be realized that Reputation is Swift's way of declaring to the world that she will stand up for herself and will no longer be affected by negative comments and attacks. It is even more important for everyone to understand that Swift will always pursue her music dreams: to sing, perform, innovate, entertain, and spread her musical talents and passions to everyone who cares to understand the ultimate message she is trying to deliver: "Just be yourself, there is no one better."
Link to photo – (http://people.com/music/taylor-swift-new-album-reputation-out-november-10/)