Fall musical "Sister Act" generates energy and excitement
The Fremd Drama Club will be performing the musical adaptation of 1992 film "Sister Act," in the Kolze auditorium on Oct. 19. A preview of the musical was shown to the students at Fremd, on Oct. 5 and 6, in order to showcase the talents of the cast and crew. The cast performed several numbers, most notably "Raise Your Voice," where they displayed their clean dancing, powerful singing and choreography.
"Sister Act" follows Deloris Van Cartier, a nightclub singer seeking stardom and fame. However, her life is shaken up when she is forced to seek refuge in a convent after witnessing a crime performed by her mobster boyfriend, Curtis Shank.
The original movie stars Whoopi Goldberg, and it successfully earned two Golden Globe nominations and $139 million at the box offices. The movie was later adapted into a Broadway musical in 2011.
Director Judy Klingner was concerned about the racial discrepancy between the cast in the movie and Fremd's cast.
"I have been looking at doing the show for a long time, and I kept bumping up against the racial issue because I know the movie," Klingner said. "I was worried that the audience would be upset if I didn't have the right races cast in the role."
In order to handle the situation, Klingner contacted other directors at high schools to see how they handled the situation. Also, after learning that the script was originally created for Bette Midler, she decided to go through with the casting.
"I figured if they could originally have it planned for a caucasian woman, why couldn't we go back and do it the same way it was originally planned," Klingner said. "The only time I feel that you have to cast along racial lines is if the story is about race. If I was going to do a production of "Raisin in the Sun" or even "Hairspray," you can't change that because that's history. That would be disrespectful to change the race of the actor in those cases, but otherwise, anything goes."
Senior Paige Dirkes-Jacks, who plays Deloris, has had to face new challenges in order to prepare for the role, but it has ultimately been a gratifying experience.
"I've never done a show where I have to belt like this. I have been wanting to build this skill for a long time so that was a really fun thing to start to learn. And I'm still getting better at it, but it's exciting every time I get a little better at that style of singing," Dirkes-Jacks said. "I'm working on learning how to stand with confidence and poise because like this big diva that makes everyone come to her and she's super confident in herself. It's actually given me more confidence just to portray this role."
Deloris and the nuns are initially at odds due to their contrasting lifestyles, but their relationships and the journey that they go through together transform each of their lives and is a significant part of the story.
Similar to Dirkes-Jacks, senior Natalia Lastowieka says that appropriately portraying her role as the strict head nun, Mother Superior, was difficult.
"The fact I got this role was a shock. I don't consider myself an actress, so I wasn't really prepared for that," Lastowieka said.  "So, the biggest challenge was that I had to learn how to act like an older person who has a lot of power which is something I'm not. I walk with more dignity and power; I lower my speaking voice."
The musical features disco and gospel style performances to comply with the time period that the musical is set in.  
Due to the unique setting and time period of the musical, Klingner has prepared the cast so they could fully understand their characters and the show.  
"This show is set in 1978 and I think the students at Fremd High School know a lot about eras like the 1920s, the 1950s, but I don't think our students know that much about the 1970s," Klingner said. "There are a lot of references in the play to things that happened in the 1970s or a little bit earlier so there was a lot of education that had to go on to make sure the cast knew what they were talking about when they were saying their lines."
Dirkes-Jacks notes the importance of the efforts of everyone involved in the production of the fall musical.
"We have a killer cast and crew," Dirkes-Jacks said. "The crew works so hard; our set is beautiful. We have these stained glass windows, and there's a bunch of moving set pieces. And if you go up to close them, the details are insane. It looks so real and it is so cool to look at. The tech crew, the set crew, the pit orchestra, everyone in the cast has just been working really, really hard. We've been rehearsing since August and set crew has been building since even before that. I feel like there's just that mentality that when you step into the auditorium at  3 PM that you have to work, it's time to put the show together. It's really exciting because there's an energy that everyone is apart of and that's what is really driving this show."   
The Fremd Drama Club will perform "Sister Act" at 7 p.m in the Kolze Auditorium on Oct. 19, 21, 27 and 28 with tickets on sale for $9.
About the Writer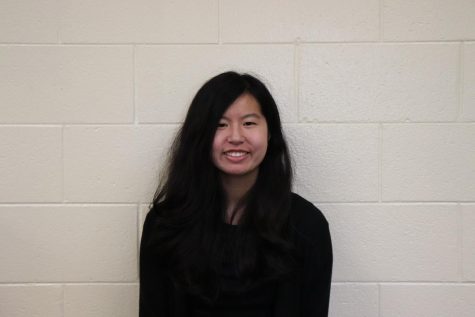 Kaitlin Wong, Lead A&E Editor
Kaitlin is currently a sophomore and the arts and entertainment editor. She began writing for the Logue in her freshman year. Outside of Logue, Kaitlin...