Girls volleyball shuts down Conant in senior night victory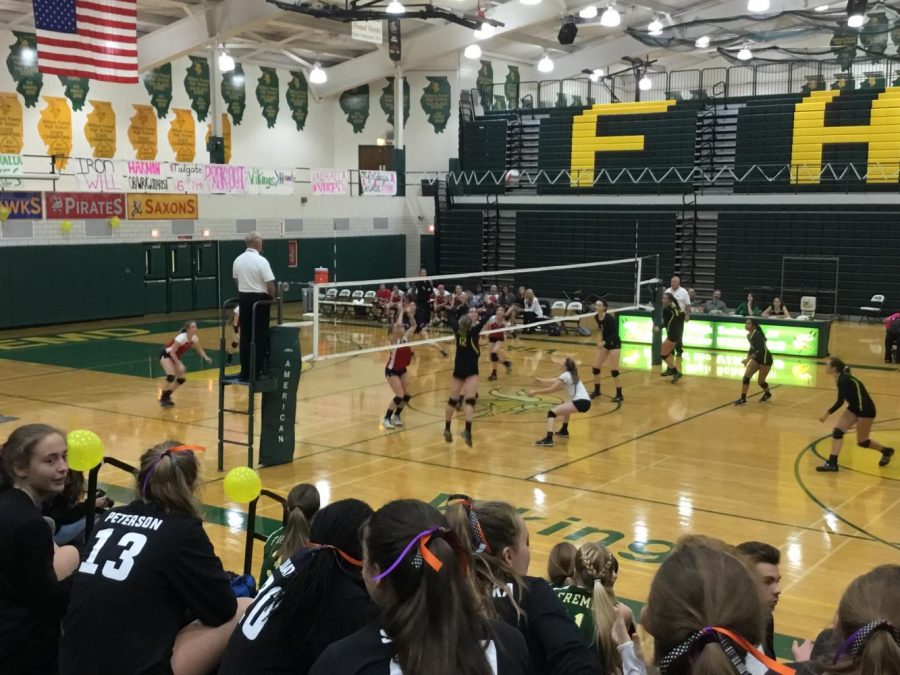 After a loss to Palatine on Oct. 10, girls volleyball regrouped and came back with excellent energy and focus which propelled them in an easy two sets to none senior night win against Conant on Oct. 12. By winning this crucial match, Fremd not only became co-champions of the MSL West alongside Schaumburg, they also earned the right to play in the MSL championship game.
Senior outside hitter Jessica Rizzo details the team's do-or-die mentality coming into this game.
"In the back of our minds, we knew what was at stake if we lost. The MSL championship could have been taken out of our hands," Rizzo said. "But, thankfully, we pushed through and finished."
Fremd asserted their control of the match early on as they made sure the ball found the ground on Conant's side of the court on almost every one of their attacks in the first set. However, service errors allowed the Cougars to stay in the game. Despite Conant's efforts, the tenacity of senior middle hitter Jessica Mazur and junior outside hitter Heidi Sayre helped the Vikings close out the first set 25-18.
Head coach Curtis Pinley describes the intangible efforts that led to the team's success.
"We had really good energy tonight, and the energy carried us at times when we really weren't playing our best," Pinley said. "I also thought we were very consistent. The consistency of keeping balls in play and executing our offense when we were able to kept Conant on their heels."
While Fremd continued to crush the ball throughout the second set, it was the Vikings defense and teamwork that really shined through. A one-handed dig by junior libero Maddie Aichinger that set up a Mazur kill which forced a Conant timeout basically characterized the entire second sets, great defensive plays leading to even better offensive plays. Fremd was simply the commanding team throughout this set and finished it out 25-15.
Senior setter Sarah Straup, along with the rest of the team, knew that after the loss to Palatine, emotional improvements had to be made.
"We talked about confidence in our hitting and in our passing," Straup said. "We definitely lacked that against Palatine, but we brought it back this game."
Sayre led the team with eight kills, followed by seniors Jessica Rizzo and Mazur with six each. Straup's excellent facilitation of the ball helped her finish with 21 assists, compared to Conant's setter Kristina Loznjakovic who had 10.
Pinley reflects on the key position played by the team's four seniors throughout the season.
"With only four of them, the seniors really had to extend themselves in terms of leadership roles. I leaned on them to be positive role models and that's something that they've done a really good job of," Pinley said. "I'm not talking about kills or attacks, but I'm talking about having a positive attitude during practice or encouraging teammates. Those kind of things, the seniors did all year long."
After this win, the team improved to 8-2 in conference and 16-7 overall. The girls also won the Grayslake North invite tournament on Oct. 14. The Lady Vikes hope to win the MSL championship for the second year in a row. They play Hersey at home on Thursday, Oct. 19.
About the Writer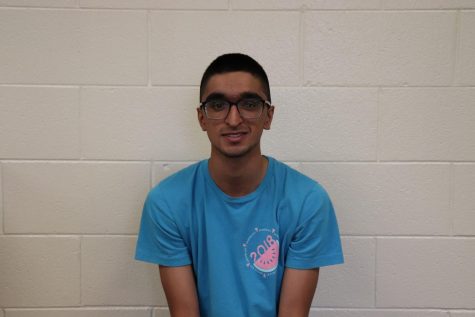 Nikhil Sriram, Editor-in-Chief
Nikhil is a senior and a Editor-in-Chief. He is also part of the Fremd Debate Team and HOSA. In his free time, he enjoys writing about the Bulls for The...