Trump's UN speech polarizes nation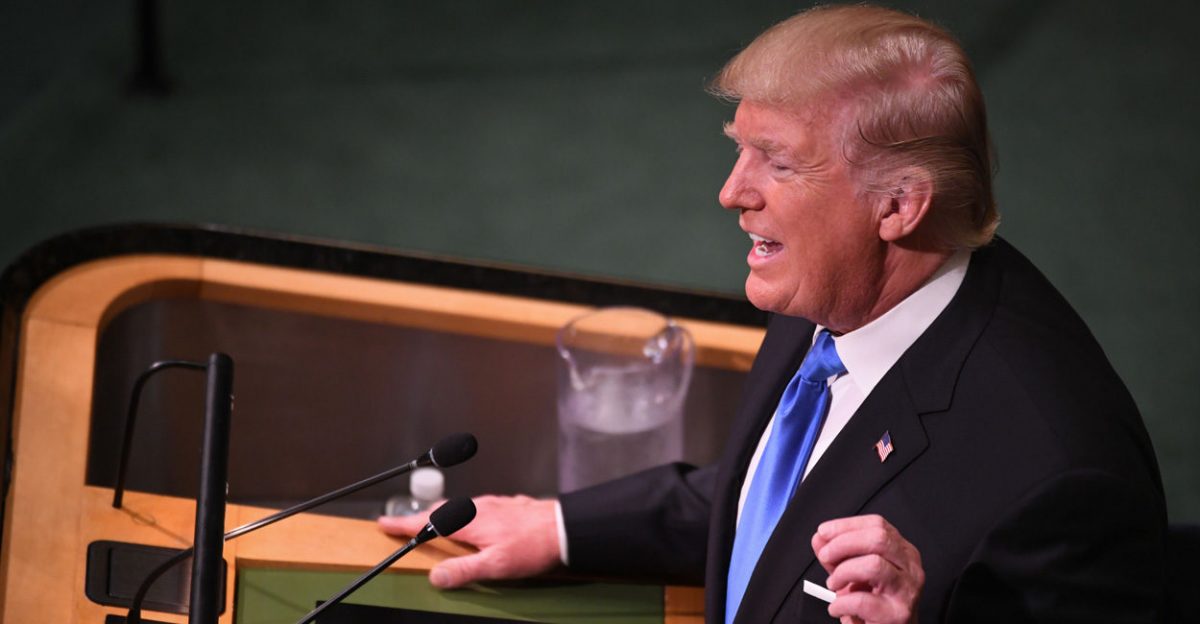 President Trump gave his first address to the United Nations General Assembly on Sept. 19. In his 45 minute speech, he denounced the Venezuelan government's actions against its people, briefly mentioned the Russia's annexation of Crimea and intervention in Ukraine, assailed the Iran agreement, and mainly called for more action on the situation in North Korea. President Trump's speech was polarizing, leaving some thinking that Trump went too far and others thinking his aggressiveness was necessary.
Junior Conner Bolanos, a member of Model United Nation, believes that Trump gave a strong speech, as he cut to the chase quickly and called for global leadership to address problems in North Korea.
"Overall, Trump's speech was probably one of his best yet," said Bolanos. "Trump was able to effectively praise the international community's efforts in denouncing North Korea, and providing more sanctions, something that should've been done long ago."
Additionally, Trump's rhetoric took a complete shift from the past decades of American policy in favor of the collective UN philosophy. The president repeatedly praised "sovereignty," defending his 'America First' policy. He claimed that he would always put the United States first, as other leaders "will always and should always" do. He also argued that nationalism should be a strong foundation for nations to join together for common causes.
However, his use of confrontational words in his speech incited a mix of positive and negative reactions. President Trump used a fiery, war-like oration, promising to "crush loser terrorists," and mocking Kim Jong-un, referring to him as "Rocket Man." Some analysts have warned that his rhetoric would diminish the prospect of negotiations with North Korea, and that by using such tough and strong diction, Trump mirrored the threats from North Korea's leader, Kim Jong Un. Experts have raised concerns that Trump's speech will feed the North Korean narrative in national propaganda that the United States is a dangerous threat that needs to be brought down.
Freshman Emily Hao, another member of Model UN, brings a new, more positive take on the President's speech.
"From 'losers' to 'Rocket Man,' the rhetoric seem a bit obscene and unbefitting of a President," said Hao. "However, I feel that their use is appropriate, given that, for example, a terrorist's goal is to spread terror. Calling them a loser does not communicate that one is particularly afraid."
Hao also considered the fragility of the current situation in North Korea and how Trump handled that within his speech to the UNGA.
"Trump's statements were a bold display of US power, but perhaps too bold?" Hao said. "All it takes is one misunderstanding for the first missile to go flying into some city – unlikely and unwise as that is. North Korea has always hated and feared the US. Trump's speech has done nothing but exacerbate that relationship."
Indeed, on Sept. 25, the North Korean Foreign Minister said that President Trump had "declared war" on his country, and went on to explain that this meant that North Korea could take "countermeasures" that include shooting down American bombers even when they aren't in North Korean airspace. Later in the day, the White House Press Secretary Sarah Huckabee Sanders pressed back, stating that they "haven't declared war."
At Fremd, the club LiNK (Liberty in North Korea) raises awareness and money for the benefit of the North Korean refugees, and the club's sponsor, English teacher Victoria Eldridge, focused more on the lack of any distinction in the President's speech between the Kim regime and the millions of malnourished people in North Korea.
"What we're doing is putting them in danger," Eldridge said. "I know that we've decided to impose sanctions on the country, and oil embargoes because the majority of their money comes from their oil and coal industry, but if we take away that money, they're not going to have any money to feed the North Korean people, and take care of them. Yes, we're trying to deplete the Kim regime, but we're also depleting humanitarian aid for the people. Where are they going to get their food, money, or support? They don't have anything."