"Riverdale" returns with a second season after stunning success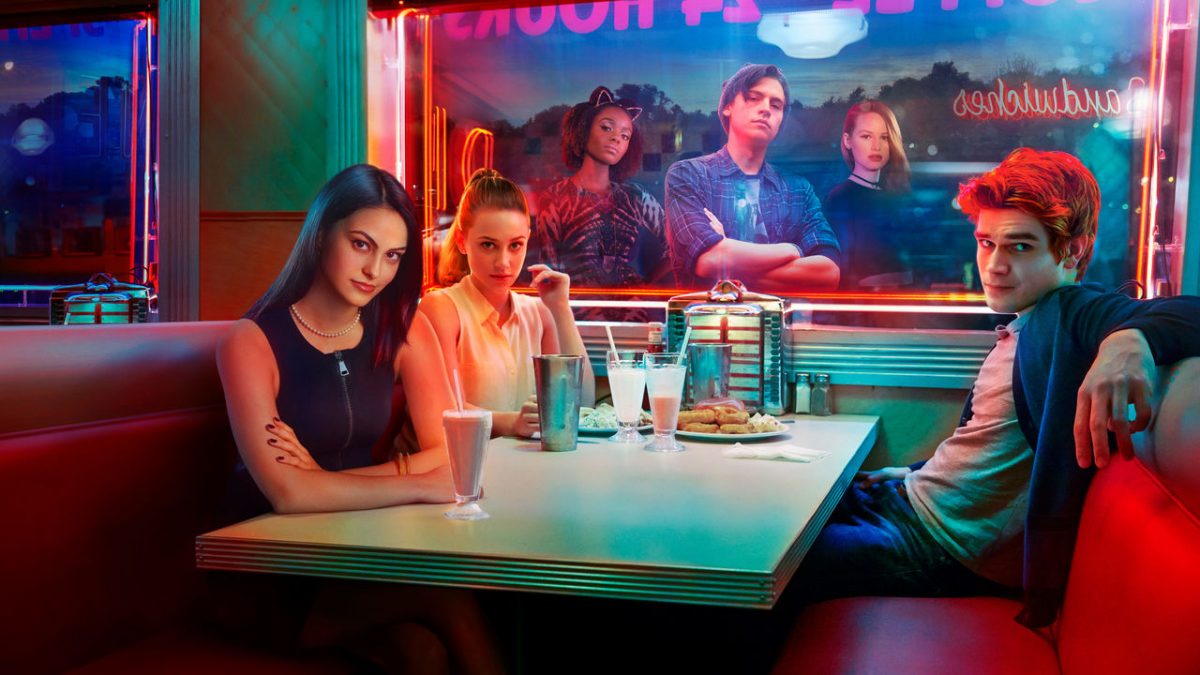 Sophia Jaros, Contributing Writer
September 27, 2017
Warning: Major spoilers are included
The CW's Riverdale, a teen drama and epic murder mystery, has been a huge success over the past year. Based on the Archie Comics that were first published in 1941, the ending of season one, a lot of questions have been raised, including the health of Archie's dad following the robbery at Pop's chocolate shoppe that left him wounded and Cheryl's destructive decisions.  Although Betty and Jughead are still together, there has been a lot of drama about someone new stepping in to shake Betty and Jughead's relationship. Also, there has been talk that Veronica's ex- boyfriend is going to be becoming apart of the drama as well.
For the new season of Riverdale, the CW is leaking information about what it is going to be like. Some things we already know is that Vanessa Morgan has been added to the cast and is playing Toni Topaz, a girl who befriends Jughead as he transfers to his new school. Some people might know Morgan From "Geek Charming" or "My Babysitter's A Vampire."
Although we have not seen her actually breaking up Betty and Jughead, fans have been going ballistic over the fact that Toni might mess up the relationship between Betty and Jughead. Cheryl has been rumored to have found a new love interest, and some people believe that it is Toni. Also, some people have been saying that Dove Cameron is joining Riverdale, but she said that those accusations were false, but she did post a picture of the Archie Comics very own teenage witch, Sabrina, so viewers won't know until season 2 comes out.
Below is some brief information on where viewers have left the characters at the end of the exhilarating season finale.
For Veronica, a lot of things are going to be happening to her. For example, her dad is coming back from prison, and so is her ex who might mess things up with her and Archie. It leads viewers to believe that they might be working together. Some photos have been leaked, and they show the characters in formal wear. This leads viewers to whisper about a real or fake wedding going on.
Archie. Poor Archie. The season left us wondering what's going to happen with his father. Along with Archie being extremely sad, the CW has released that Veronica and Archie are going to become closer.
Betty is known to be a favorite character, and the new season has been rumored to let the audience get to know Betty more. The CW says that she will know the root of what is going on in Riverdale. In the end of season one, a huge bomb has shocked the world. Betty has been told that she is a Blossom!
Cheryl was last seen burning her house down. She has had to endure the murder of her brother, Jason, by her own dad, and now she has lost her dad as well, but some theories say that he might still be alive. The CW has told the fans that Cheryl is going to become darker and meaner, which is unfortunate because some fans don't want her to be mean to their favorite characters.
As for Jughead, the series ended with him putting on a "Southside Serpent" leather jacket, leading viewers to believe that he is going to be shifting to a darker part of himself. Jughead has been going through a lot this season. For example, his mom said he shouldn't go see Jellybean, his sister,and  his dad is in jail for a crime he didn't commit. The future for Jughead has not been fully leaked, so viewers are still unsure what will happen with him.
Riverdale Season 2 is coming in less than a month, when our unanswered questions will finally be revealed. The new season will premiere on Oct. 11 on the CW.