Fremd's Variety Show brings new talents into the light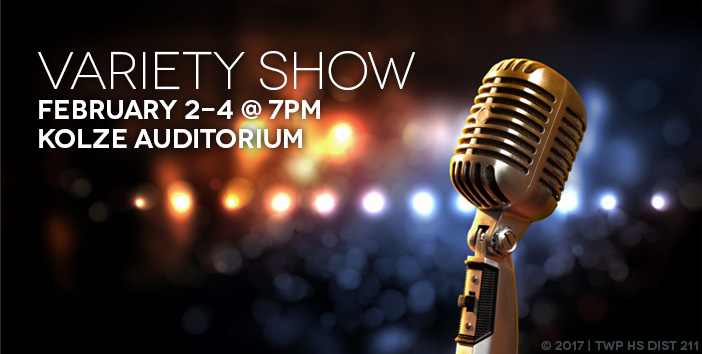 Safa Saied, Contributing Writer
February 8, 2017
Almost 1,200 friends, family, and students arrived to the Kolze Auditorium on Feb 2-4 to watch this year's Variety Show. Acts included a variety of dancing and singing groups as well as showcasing amazing talents in beatboxing, drumming, and rapping.
John Baima, the head of the Variety Show for the last seven years, was impressed by this year's event.
"I have been a part of the Variety Show for many years. This year, however, was the one where I was most blown away by the amount of tickets we sold," Baima said. "The Variety Show, I think, gives a chance to students who don't normally perform on stage, an avenue to express their talents".
Senior Ben Mathew has been in the Variety Show all four years and this year was given the opportunity to emcee along with Sharbik Dutta, as well as do his own Jeopardy skit.
"This year has definitely been the most memorable. It was the most gratifying and the most special Variety Show for me," Mathew said. "My favorite part of being an emcee was working with Sharbik, by far. The actual moments we performed and the brainstorming sessions we had were the best moments of being an emcee, just two dudes hanging out and cracking jokes."
Freshmen Stacey Mau, who has been to Variety Show twice, attended the show on Saturday and had thoroughly enjoyed watching all the various performances.
"I had two of my friends who were performing that day. I would never perform, but it was cool to see all the other talented people doing what they do best," Mau said. "I loved the ukulele medley; it was one of my favorites. I would definitely go next year and years to come."
Mathew, after four years of being at Fremd and in the Variety Show, has nothing but good things to say regarding the event.
"The best part of having a V-Show is the opportunity it gives students to come out from the shadows and show off passions they may not have the courage or capability to share in day-to-day life," Mathew said. "Fremd has such creative, talented, driven, and artistic minds, and it would be a shame if we didn't have an event like V-Show every year to let them shine."
Both students and teachers have worked very hard on this event for all of Fremd's students and staff, along with their friends and family.
After 15 years of being a part of the Variety Show, Mr. Baima, along with the co-directors, are happy to have this year be a success.
"I have been working with the same team of directors for a long time, and we truly enjoy leading the show.  We continue to be amazed by the talent that our students have."