Album review: The Menzingers-"After the Party"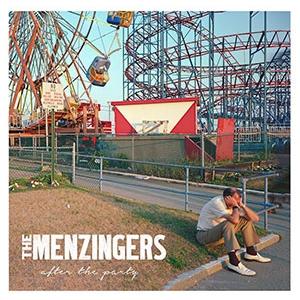 Hang on for a minute...we're trying to find some more stories you might like.
10 years since their first album, "A Lesson In The Abuse of Information," Philadelphia punk group The Menzingers' fifth album, "After the Party," displays a pop-based style with foot-tapping melodies, yet complimented by their familiar vocals and strong guitar riffs from singers/guitarists Tom May and Greg Barnett.
"After the Party" hits the ground running with fast-paced "Tellin' Lies." Barnett's rugged vocals combine well with hard hitting guitar chords and solid bass and drum performances. The track's lyrics humorously criticize the stiffness of growing up: "Buying marijuana makes you feel like a criminal/ When your new friends take a joke too literal" and assure listeners that the band will continue being itself.
The opener is followed by medium-paced "Thick as Thieves." The track connects present and future thoughts in "Tellin' Lies" to the sunny nostalgia present throughout the album. The track that follows, "Lookers" establishes the sentimental tone with lyrics, "But that was the old me/I was such a looker in the old days."
Middle tracks "Charlie's Army" and "House on Fire" fall short of the rest of the album. Both of these tracks include a delivery of forced lyrics that sever the flow of the songs, as well as repetition that irritates, rather than becoming a pleasant earworm. Additionally, "Charlie's Army" features cliché references to Romeo and Juliet, which creates a superficial vibe. Even though these tracks fall short, they still include strong guitar performances.
The Menzingers demonstrate ability to succeed using different styles with mellow, folksy "Black Mass." The track is different from the punk that listeners are used to; however it is not a far step from slower ballads like "Transient Love," which appeared on their 4th album "Rented World." "Black Mass" features wistful, twangy vocals, a tambourine and a sturdy drum beat that blends well with the forlorn mood and creates a well-placed lull in their quick-tempo songs.
The album also features a wide range with pop tracks like "Bad Catholics" and "Your Wild Years", which include smooth vocals and upbeat lyrics. On the other hand, punk tracks including "Boy Blue,"  "The Bars" and "After the Party" feature the rough vocals, heavy guitar riffs and quick drum work.
Lastly, melancholic "Livin Ain't Easy" rounds off the album. The track opens with a haunting guitar melody, then echoing chorus and cheerful singing of despondent lyrics take over, which adds to the eerie atmosphere.
The Menzingers have transformed over the years with more polished vocals and a wide range including varied tempos, mixes of pop and punk and even folk. Their range displays increased maturity and improved musicianship. However, The Menzingers still stay true to their roots with punk elements which helps to deliver an excellent album.