Boys swimming and diving gets sixth win against Barrington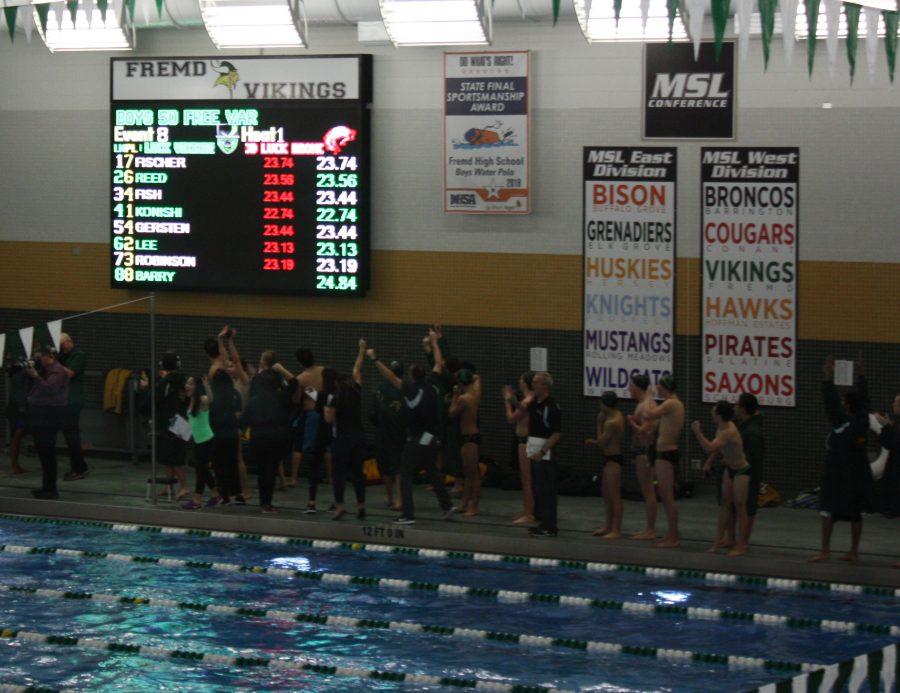 Mia Jayes, Sports Writer
January 25, 2017
Fremd's Swimming and Diving added onto their 6-0 record in MSL dual meets. Keeping the winning streak alive against Barrington by a score of 95-91 on Jan. 20.
Coming into the meet, the team knew this was one of the harder matches due to Barrington's 7-0 record going in and from past experience. In order to add to their undefeated record, they had to focus in on the basics.
Heading into the meet, senior Arnas Maciunas knew that team unity needed to be the focus on everyone's mind.
"We come together as a team even more," Maciunas said. "We focus all week mentally and physically both in and out of the pool."
Head coach Kristen Newby explained the difficulties this meet would bring.
"Barrington provides a real challenge to our team," Newby said. "Every time we swim against them it brings out the best in our team because we are forced to compete at or above their level of completion."
The boys held the lead throughout the meet, although it was a close contest the whole way. They concluded the meet with a win in the 400 free relay with a time of 3:15:27 swam by seniors Nick Nevins and Nick Seroni, and juniors Alex Shillinger and Danny Konishi.
Sophomore girl's varsity swimmer Kristina Buzuloiu thought the energy was high throughout the entire meet.
"It was exciting and edgy," Buzuloiu said. "Everyone expressed good sportsmanship and respect despite the tension between the two sides."
Senior Matthew Lichtenwalter described his hopes for the end of the season.
"We really hope to continue our streak," Lichtenwalter said. "Make it all the way with all straight wins."
Their next home meet is versus Schaumburg on Jan. 27 at 4:30.