Trump's inauguration sparks mixed emotions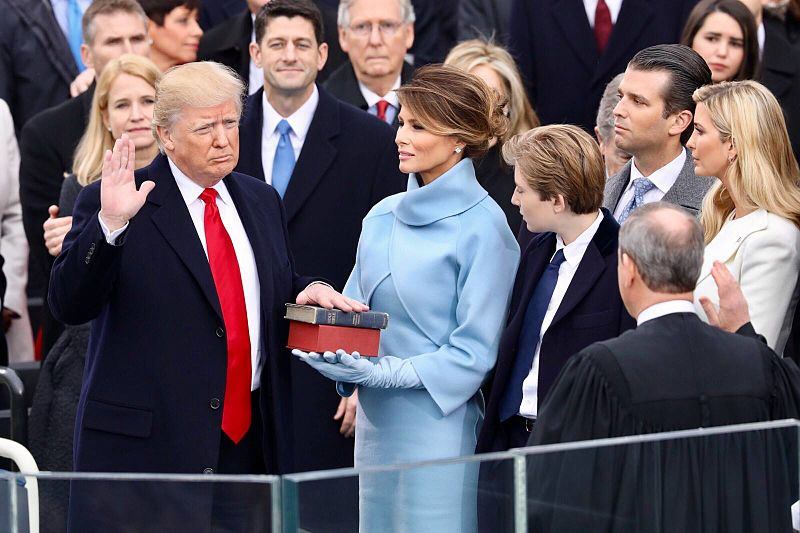 Safa Saied, News writer
January 25, 2017
2016 has come to an end and a new year has started, along with a new presidency. Recent days have resulted in bright celebrations and protest. Donald Trump was inaugurated into office on January 20, 2017.
In his inaugural address, Trump sought to instill hope for the future in the citizens of America.
"We, the citizens of America, are now joined in a great national effort to rebuild our country and restore its promise for all of our people…we will get the job done" Trump sad. "Your voice, your hopes, and your dreams will define our American destiny. And your courage and goodness and love will forever guide us along the way…Together, we will make America strong again. We will make America wealthy again. We will make America proud again. We will make America safe again. And yes, together we will make America great again."
Students and teachers tuned in to watch his inaugural address and based on their standpoints, hold certain opinions regarding not only his speech but his presidency as a whole.
Social Studies teacher Kevin Palmer provided an economic and historical perspective on the presidency of Trump.
"The election and the way in which he managed to win isn't new," Palmer said. "The certain rhetoric he used was very applicable and relatable to people in rural states that were very crucial to the electoral college and the outcome of the election. These people were desperate to find someone new who had different priorities that benefitted them for better or for worse."
Junior Nana Rahman believes certain values Trump holds close are insensitive and not characteristic of a president figure.
"Trump getting inaugurated is very surprising and I don't believe he has the capability to run this country the way that will benefit the majority of the people. I don't believe he is going to go through with a lot of the stuff he says he is going to do because there's only so much one person is willing to do," Rahman said. "He has insulted women, African Americans, Mexicans, and many other people; it isn't right to insult anyone the way that he has."
Freshman Trump supporter Ethan Nehls believes Trump has every capability to fix America.
"Anyone can tell that this country for the last eight years was headed into the ground. With Donald Trump being elected it left America with a much better chance of thriving. Less government and more freedom to the people is what we need as a nation, the overreaching arm of the government has clouded our minds with fake news and insight, coming from false actions through the media," Nehls said. "Our schools and education will finally live up to what it should be and not focused on the money and intentions of the political stance by the teachers. Washington D.C. run by elites only concerned about money will fade away leaving the people to once again regain their control their rightful control over the country as a democratic republic."
Everyone has various opinions regarding this event. It is now the job of all the citizens to unite behind America's new leader.