Shorthanded wrestling squad falls to Conant
On a cold Friday, Dec. 9 night, the boys wrestling team competed with lots of energy, but could not overcome several injuries and Conant's strong performances. Aided by two Fremd forfeits due to those injuries, the Cougars came out on top by a final score of 52-25.
Fremd wrestlers triumphed in five matches, with junior Cole Riemer starting off the night well with a 13-2 victory. Junior Adam Kemp followed suit two matches later with a 5-2 victory in which neither wrestler could gain the upper hand for a long period of time, but Kemp made enough moves to win. In the next match, senior Quinn Bergles came out aggressive and quickly pinned his opponent. After two losses, Fremd captured its last two victories in style with consecutive pins by seniors Connor McMillin and Zack Nemec. McMillin's dual was close until his pin late in the match, but Nemec's pin came in the middle of his match after he started it off with a rapid succession of takedowns.
Riemer thinks his teammates contributed greatly to the emotion of the competition.
"I think as a team we did a very good job of supporting each other, we really helped each other assist with the team atmosphere, really encouraging and helping each other out," Riemer said.
Despite the passion exhibited by the Vikings, their injuries slowed them down and widened what might have been a small gap on the scoreboard. This was due to two forfeits in favor of Conant, because Fremd could not wrestle anyone at those two different weight classes. Aside from those losses, Fremd wrestlers finished with a 5-6 record. Nemec commended the junior varsity wrestlers, senior Gianni Gutierrez and junior Sean Driscoll, for filling in.  
"We're down a few starters right now, so the JV guys that went in there really stepped it up today," Nemec said. 
After the match ended, Ruettiger pulled his team aside and also recognized the JV contributions, as well as his team's determination.
"I told them they were wrestling tough. That's the one thing, with these younger guys stepping in the lineup, that's the biggest thing I'm asking for- put their effort forth and wrestle a complete match."
Although there were positives from the match, Fremd still has some work to do. Head coach Daniel Ruettiger identifies their bottom position, in which wrestlers start on their knees and try to work their way towards standing, as an area of improvement for all.
"As a whole, we are working on our bottom position. That's been one common thing we've been spending a lot of time with," Ruettiger said.
A lifetime wrestler, Ruettiger has lots of experience to teach from. Riemer admires Ruettiger's thorough coaching style.
"Dan's a great coach. In the room, he really takes his time to show everyone his technique," Riemer said.  
Moving forward, Fremd still has plenty of time to recuperate from their injuries and make a solid postseason run. In addition, the Vikings varsity roster of thirteen consists of just five seniors, so they are in good position for postseason success in the near future with their younger squad. However, these Vikings are still focused on this season and have some important goals. Nemec comments on the importance of players advancing in the postseason.
"We want to get as many guys down to regionals, down to sectionals, down to state. We'll get a good team experience and good team bonding down there," Nemec said.  
Individually, Riemer and Nemec both hope to be state champions at the state tournament. So although they could not beat Conant, Fremd wrestlers still have high hopes for the rest of their season.
About the Writer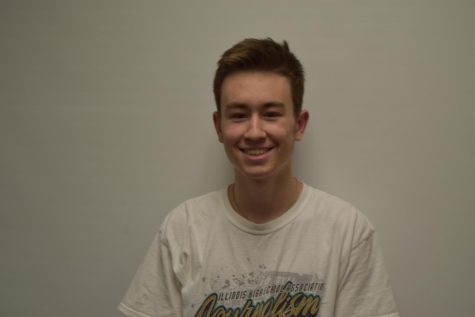 Tim Moran, Sports Editor
Tim is a third year sportswriter for the Viking Logue. He has competed at a regional competition and placed fourth out of 12. His main activity at Fremd...