Fremd football 2016: A season in review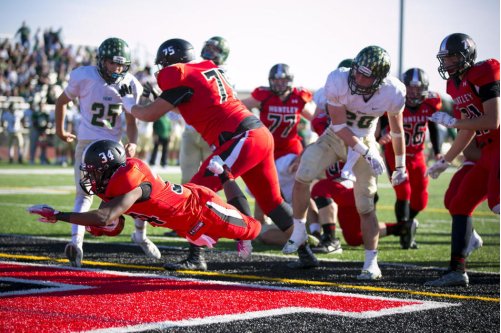 One week after upsetting heavyweight Brother Rice, Fremd fell to Huntley on Saturday, Nov. 5 by a score of 38-30, ending their season and leaving them with a record of 7-4. The season was a positive step for the Viking program marked by excellent team character and overall success in the regular season and a playoff win.
Flashback to late August, where a heart-wrenching opening loss to Lake Zurich dampened the new-season excitement, as the Bears snatched the victory with a last-second score. However, the Vikings would bounce back with a 35-17 win over Hersey, followed by impressive victories over New Trier and Glenbrook South. After back-to-back losses to powerhouse teams Barrington and Palatine, Fremd sat at 3-3. Moving forward, they exhibited their resiliency as they rattled off three consecutive blowout wins over conference foes. The games were characterized by prolific offensive play, but especially strong defensive performances, as over the course of the winning streak they gave up an average of just over nine points per game.
Junior linebacker Ryan Kristo analyzes the impressive growth of the defense over the course of the season.
"At first, on defense we really only had the basics down, like alignments and all that," Kristo said. "But then later one we started to build off that, and I feel like we've learned a lot for a high school defense."
Entering the postseason, Fremd's 6-3 record put them in a tough spot, as their first round opponent was Brother Rice, who despite being seeded eighth was widely considered to be the second-best team in the state.
Senior cornerback Patryk Ryczek feels that no one gave his team a fair chance on the road against the Crusaders.
"We were definitely underdogs going into that game. Everyone thought we had absolutely no chance of winning," Ryczek said.
Nevertheless, the Vikings came out fighting. Facing a seemingly impossible task, Fremd relied on big plays to get the job done. Defensively, Kristo and Ryczek stepped up, as both had key interceptions to halt the Crusader offense. Additionally, senior wide receiver Nick Cecchin tossed an 81-yard touchdown pass on a trick play, which lit up the Fremd sideline, as well as the scoreboard. Contributing also was senior quarterback Tom Josten, who finished with a dazzling stat line of 299 yards, 3 touchdowns, and no turnovers. When all was said and done, the Vikings came away with a 45-42 stunner.
Kristo believes his team's confidence during preparation manifested itself in the thrilling victory.
"Throughout the whole week we knew we could win. We didn't even think losing was an option. We just came out and played our best game," Kristo said.
Advancing with a dose of momentum, Fremd next had to battle Huntley. Although they weren't as formidable an opponent as Brother Rice, the Red Raiders proved to be a tough matchup.
Ryczek looks back on the upset win as an unfortunate source of overconfidence heading into the Huntley game.
"After we beat Brother Rice, we kind of all got a bit too happy. I think we almost overlooked them and we were dwelling in the past," Ryczek said.
Ryczek seemed to be right on the ball. The Vikings fell behind early and could not overcome the large deficit they faced. By the time it was the fourth quarter, deficits of 20+ points became too large a barrier, even for the Crusader-conquering Vikings.
Head coach Lou Sponsel recognizes his team's consistent misplays and misfortunes as a huge factor.
"Everything that could have gone wrong, went wrong in the first half….we made about every single mistake you can make," Sponsel said.
The offense and special teams shone brightly in the second half as they totaled 30 points, with one scoring drive aided by a 79-yard return courtesy of Cecchin. In contrast, the Fremd defense was not sufficient, as they yielded big touchdowns of 42 and 43 yards on their way to giving up 38 points.
Sponsel outlines the fundamental errors that opened the door for the devastating big plays.
"We had some misalignments, and had some guys make some basic mistakes in the secondary, and those led to touchdowns," Sponsel said.
Despite the loss, the season felt like a success, especially in the eyes of the team and the coaches, yet not just in the way one might expect. Ryczek, Kristo, and Sponsel, all expressed their happiness with the bond of the players and the character of the team.
Ryczek overviews his  team's commitment to being responsible teammates and people.
"We focused on discipline and accountability and being able to understand the consequences of what you do, and that everything adds up eventually," Ryczek said.
Kristo remarks on the increasing cohesiveness of the squad that developed over the season.
"At the beginning of the season, we didn't really know each other, but throughout the season we learned how to play with each other and we grew a really tight bond," Kristo said.
Over their four year run at Fremd, this group of seniors finished with a record of 30-9, including an 18-0 streak for their freshman and sophomore campaigns.
Obviously successful on the field, Sponsel is even more so pleased with the way his seniors represented Fremd as students.
"I couldn't be more proud of a group of guys. Yes, on the field I'm proud of them, but I'm more proud of who they are as people and what they did for the program," Sponsel said.
Those seniors now move on into the next stages of their life and football career, while the juniors are looking forward to one more year in the green and gold uniform.
Kristo feels this season gave insight into the remarkable impact playing on a football team has.
"This season was a really great experience for me and the whole team because we learned that football is more than just a game, it's about learning how to play with each other and growing a bond that you can't find in any other sport," Kristo said.
Overall, a playoff win and a 7-4 record is an impressive finishing resumé for Fremd, and bodes well for the future.
Sponsel predicts success on the horizon.
"Our program is on the upswing. We have some very talented younger players coming up and some good teams."
About the Writer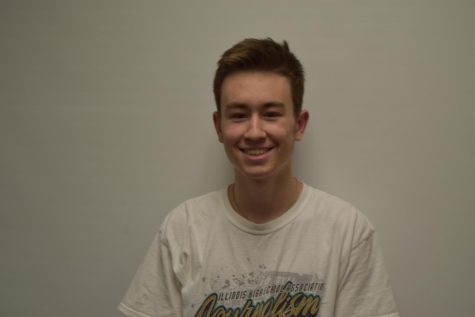 Tim Moran, Sports Editor
Tim is a third year sportswriter for the Viking Logue. He has competed at a regional competition and placed fourth out of 12. His main activity at Fremd...