Championship run falls short for girls volleyball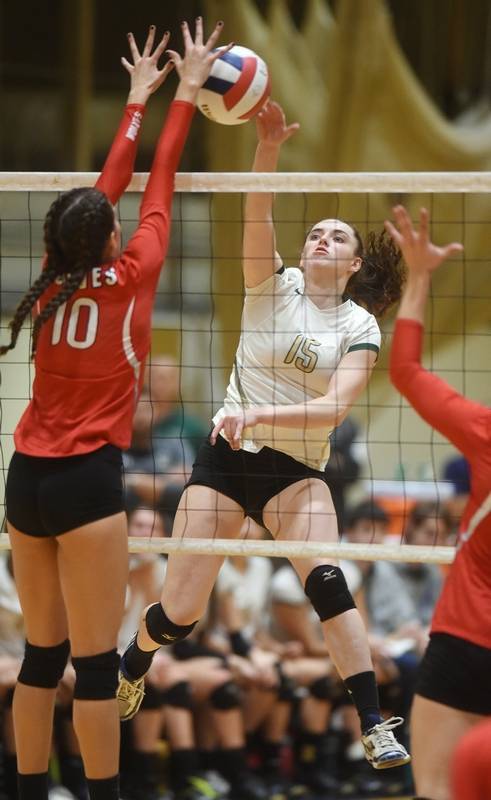 Mia Jayes, Staff Writer
November 16, 2016
After winning the Mid-Suburban League (MSL) conference championship and undergoing a deep playoff run, the girls volleyball team ended their season with a loss against Niles West 23-25 in the  sectional semifinals. They finished strong as their season came to a close.
The Vikings lost a heartbreaker, as they led up six straight points to lose the final game 25-23. Fremd utilized their balanced offensive attack to win the first game 25-20. In the second game their comeback fell short and lost 20-25.
Senior libero Karolina Sas and juniors middle hitter Jess Mazur and defensive specialist Sam Smith described the end of their season and their feelings on how it all ended.
Sas explains what she will miss most about all her four years playing volleyball.
"I will miss most about my teammates and my coaches," Sas said. "They have really shaped who I am as a person and without them I wouldn't be as a great athlete as I am today."
The season ended at the Sectional Finals during the Sweet 16 for Class 4A. Finishing two matches away from going to the sectional finals, one step before the state series, they completed their season with a 30 wins and 8 losses.
Assistant coach Tracy Harding saw selflessness develop in the players over the course of the season.
"This is the first team in a long time that embraced the concept of supporting each other no matter who starts," Harding said. "We knew this was a special group when they entered Fremd. Each player put the team in front of their personal interests."
Mazur describes her feelings on what the team could have done better throughout the season.
"Many of our competitors were pretty even compared to us, like Palatine or Barrington," Mazur said. "But I noticed we work better as a team when we string together more points early on."
Smith explained that she thought this year the team was closer than ever.
"I think our team became more of a family and we are all like siblings," Smith said. "And we just feel so close with each other, we love playing and being around each other."