Math teacher makes Fremd's very own Twitter bot
Hang on for a minute...we're trying to find some more stories you might like.
With the intention of making an example final project for his Advanced Placement Computer Science Principles (APCSP), math teacher Christopher Grattoni made a Twitter bot that tweets out the outdoor temperature, indoor temperature, and a picture of the Fremd parking lot every two hours over the summer.
The bot is actually part of a larger project that Grattoni worked on. It runs on two different credit card-sized computers called Raspberry Pi, which are located in room 223 and outside in a camera box on the press booth.
Grattoni was thinking about practical purposes of the Pi when he was creating the Twitter bot, as that would gave him experience with making things on the Pi.
"The original purpose was to get experience to be able to guide students if they wanted to make a project on the Raspberry Pi," Grattoni said. "I love to tinker and I had to resist the urge to make something because it was cool and because it had a purpose."
Grattoni learned about the Raspberry Pi in 2013 when Mathematica, a program used for the multivariable calculus class, released an operating system for the Pi but had not tinkered with it since. However, when he found out he was going to teach the new APCSP class, he made a Twitter bot using the Raspberry Pi as an example for his class.
Sophomore Sharon Lee likes the bot and is hopeful that it will turn into something that all the Fremd population could use.

"I think it's pretty awesome because Grattoni doesn't have to log in and do all that tweeting manually," Lee said. "It would really be something if students could tweet at the bot and it would respond like a human or give information about Fremd events."
The bot also collects temperature data and uploads it to thingspeak.com where it is stored and can be graphically viewed.
Senior Romil Havewala believes that free and publicly available programs make the process of making a bot a lot easier to do.
"People can do some amazing things with open source libraries," Havewala said. "Even new programmers can make Twitter bots and stuff with libraries, because they do the heavy lifting and simplify many parts of the programming process. Without them, everything would be unnecessarily difficult to do."
Many problems still exist with the bot and it is limited in terms of features. One problem is that the bot will randomly shut off and it has to be manually turned back on, but Grattoni hopes to fix issues like this later.
As of right now, there are only a few plans to improve the bot, but Grattoni is open to have APCSP students come and improve it themselves through personal or in class projects.
Grattoni hopes that students who are interested will take the initiative to make a bot of their own.
"There are certain important concepts that you learn in a computer science class and a traditional classroom setting, but I do feel that the big things that you end up learning when you just decide to try something," Grattoni said. "If anyone wants to create something or have an idea, I would say just dive in."

About the Contributor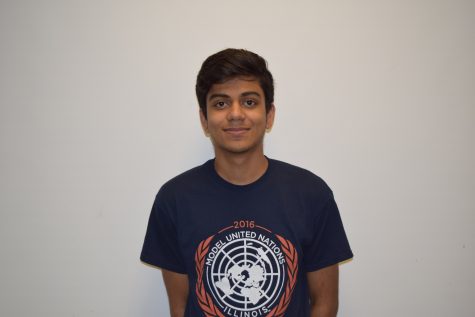 Prayag Bhakar, Tech Editor
Prayag is a senior and has been a part of the Viking Logue since his sophomore year. He started as a writer in the News department and made his way up...