New fashion trends emerge with the changing seasons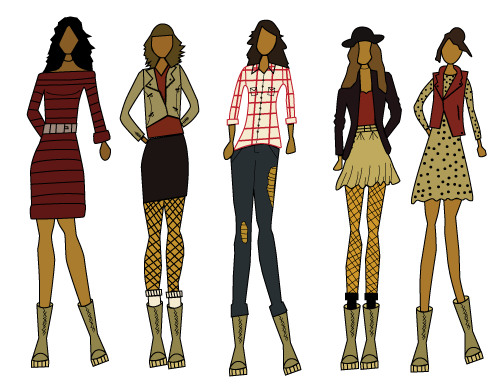 Safa Saied, Contributing Writer
October 20, 2016
Autumn is time of year where something is finally falling for you. Too bad it's just the leaves. The gorgeous colors, everything pumpkin, and getting scared to the point of tears, you can understand why people love the season so much. Specifically, fashion attracts the attention of numerous age groups due to Halloween's upcoming arrival.
Stepping into FCS teacher Courtney Young's fashion class provided plenty of examples of what they believe are this year's best fall trends.
To start off with what potential makeup trends will be this season, Sophomore Nicole Lee states that she believes burgundy, a purple-red shade, will be all the rage this year in people's makeup collection. The dark color gives a beautiful sultry November feel that screams fall.
This year's fall trends have been blowing up on social media recently. Freshman Mia Spears said she foresees a lot of 70s and 80s fashion trends making a comeback this year. Freshman Nabiha Khan expressed her excitement for this years fall trends of high boots, t-shirt dresses, ripped jeans, and knee socks. Freshman Elijah Janosko stated he believes gender neutral is becoming more popular and styled in hundreds of ways.
Halloween is approaching quickly and people are rushing to find costumes faster than they're running away from clowns. Everyone knows the feeling of running out of time and not knowing where and how to find easy Halloween costumes.
Making your own costumes can be difficult. Trying to decide whether to give up and just buy your costume or buy all the materials to make your own costumes can be very aggravating. So Young, a sponsor of the Fremd Fashion club, says finding the materials for costumes might be closer than you think.
"I think it's a good idea to check resale stores for cheap cloth that you can cut and sew to work with your costume idea." Young said.
For those who would rather spend your money on chocolate (for yourself, obviously) than on pieces of fabric, this is an alternative plan. One can also take items you already have and spice them up by adding some paint or some cuts.
Young also has tips and tricks as to how to make your own costumes at home.
"Spray painting old boots and cutting up jeans would work with numerous costumes," Young said. "One of my tips is to start small with the accessories and then depending on your costume add bigger or more extravagant pieces."
Fall is the time of the year to step out of your comfort zone and explore new fashion and Halloween ideas costumes. From red lips to cut up clothes, discover new trends and have fun this year!