Vikings come up short in Homecoming battle with Barrington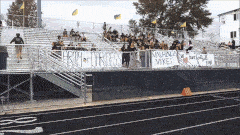 Fremd students and fans filled the stadium to watch their Vikings play Barrington in the annual homecoming game, and they treated their fans to a winning first half as they led 6-0 going into the break. In the second half however, Fremd was outscored due to big running plays and strong defense from Barrington, and lost 27-12.
The first half was characterized by strong defensive play, as Fremd forced two interceptions to help keep the Broncos off the scoreboard. Meanwhile, the Vikings could only muster six points of their own off field goals from senior Luke Schoffstall, including an impressive 48-yarder off the crossbar to close out the half. However, the Vikings lost chances for more points. Whenever they would come close to the end zone, the drive would stall before they could score or get goal line opportunities. Fremd head coach Lou Sponsel expressed his frustrations on his team's inability to convert their red zone chances.
"We left too many points off the scoreboard. When we got two field goals, we needed two touchdowns in the first half," Sponsel said.
Coming out of halftime, Fremd looked to continue their strong defensive play. However, Barrington senior running back Logan Moews sped past the Viking defense for a 77-yard touchdown on the first play of the half. It represented a turning point in the game, as the Broncos would outscore the Vikings 20-6 from there on. It also began the onslaught of the Bronco running attack, which would finish with 333 total yards by the end of the game. Fremd senior safety Jake Haas, who had an early pick, commented on the importance of the game-changing score.
"When you're on top of them, they have a hard time coming back. We let them get a lucky one," Haas said.
From there, the Vikings would battle but ultimately fall short.  They would start the fourth quarter by shortening the gap to two points on a 67-yard touchdown pass from senior QB Tom Josten to senior WR Mitch Kazmer. After missing the 2-point conversion, Fremd would rely on their defense to continue the strong play, but Barrington's running game powered the Broncos to another score. Later in the game, after bending-but-not-breaking their way to a 4th and 2 situation, an offside penalty gave Barrington a fresh set of downs that would lead to a touchdown run that essentially put the game away. Senior running back and defensive back Joe Schneider reflected on the positives and negatives of the Vikings' play.
"We didn't execute exactly how we wanted to play-wise, but I think we were good toughness-wise and being physical," Schneider said.
The Vikings had little time to work with on the ensuing drive. Needing a quick touchdown and a miracle onside kick to give them a shot at the win, Josten tried to squeeze the ball into a tight spot, but it was grabbed by Barrington junior DB Alec Andrea, who returned it 102 yards for a touchdown on the game's final play. Despite the loss, Fremd gave it their all, and Sponsel recognized the positives during the contest, echoing Schneider's confidence in their physicality.
"We played as a unit. Our kids played hard, they were physical, they were tough. I thought our defense did a great job," Sponsel said.
Up next for the Vikings was the rivalry game against Palatine, in which they fell short by one  touchdown, but they played hard and finished close to an undefeated team. Haas evaluated his team's optimistic attitude that they would fight with in their next game.
"Last week was last week. Palatine is Palatine. I think that's all that needs to be said," Haas said.
3-2 after the homecoming contest, and 3-3 now after falling to Palatine, the Vikings have proven they can compete with the best, but they still have room for improvement. Sponsel highlighted the recipe for success from here on out.
"We have a good team," Sponsel said. "We've got to stay healthy, make sure we're locked in, and go from there."
About the Writer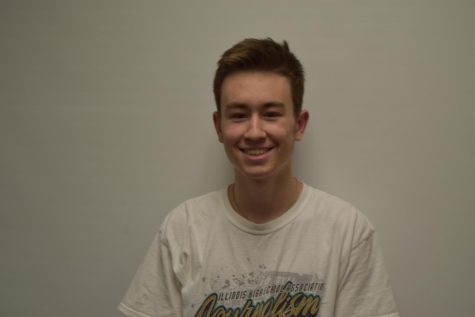 Tim Moran, Sports Editor
Tim is a third year sportswriter for the Viking Logue. He has competed at a regional competition and placed fourth out of 12. His main activity at Fremd...