Standing up or rather sitting down for what he believed in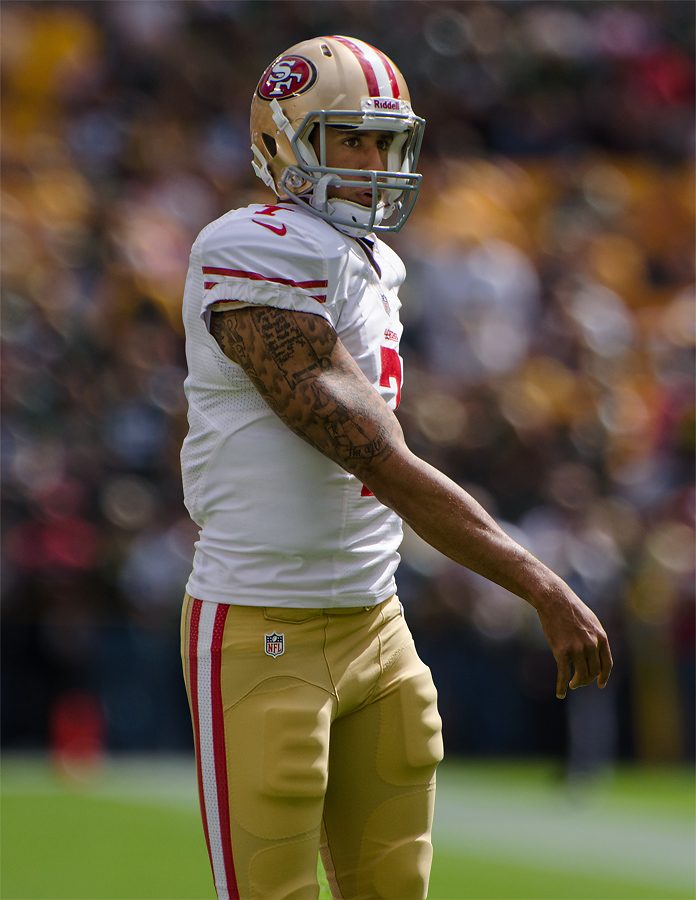 Safa Saied, Contributing Writer
September 21, 2016
On Aug. 26, San Francisco 49ers quarterback Colin Kaepernick took a stance on the treatment of people of color in the United States in front of thousands of spectators. The stance initiated numerous heated arguments on the Internet, when Kaepernick decided to take a seat during the duration of the national anthem ahead of a preseason NFL game. Kaepernick stated, "I am not going to stand up to show pride in a flag for a country that oppresses black people and people of color." He will continue to sit out during the national anthem until there is a dramatic and significant change in how people of color are treated in America, specifically, by the police.
Junior Joanna Lim heard about the controversy and does not think Kaepernick's stance on such an issue necessarily needed to be conveyed to the general public.
"I have family in the military, and I think we should honor our country more than we do," Lim said. "I feel it was unnecessary for him to do what he did."
Head football coach Lou Sponsel did not believe Kaepernick's actions were appropriate.
"I was saddened because having two brothers in the military and working alongside colleagues here at Fremd, we have people who have given their sons for this flag. I understand where he's coming from, but I don't know, I'm not a person of color, but I do know that there's a lot of injustice," Sponsel said. "I'm not saying that there's no injustice, but I think that was the wrong place and wrong time to do it. No person of power should ever take advantage of a stage that they have."
Associate Professor of Kinesiology at Penn State Jamie Schultz told USA Today that race has nothing to do with the U.S. military.
"He didn't denounce our troops. The reaction is why no other players have come out and said they plan to do something similar," Schultz said.
Despite the backlash, Kaepernick said that he will be donating $100,000 per month to charities. He set up a website that enables the general public to be able to see where he is donating his money.
Freshman Brandon Donatelli supports Kaepernick's decision to take a stance on the treatment of colored people in the United States.
"Though I was initially surprised by the news, I agree that this country isn't fair to all people no matter what ethnicity or color," Donatelli said.