July, August tied for hottest month ever recorded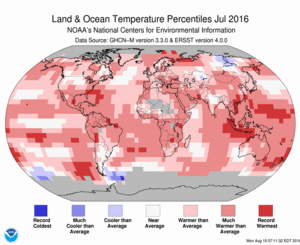 As summer rolls into fall, national average temperatures continue to surpass those of previous records. In fact, according to the State of the Climate Address published by the National Oceanic and Atmospheric Administration, every state in the contiguous United States experienced above average temperatures this summer. Most prominently, July and August of 2016 are currently tied for the hottest average months worldwide since global temperature record keeping began in 1880. Palatine proves no exception as the summer heat persists into late September.
The National Aeronautics and Space Administration's Goddard Institute for Space Studies reports that August 2016 was the warmest August in 136 years of modern temperature documentation, matching July as the warmest average month ever recorded. This information proves concerning to climatologists as July is consistently regarded as when the seasonal temperature cycle peaks.
Science teacher Jason Adcock believes that rising global temperatures may be a result of both the Earth's natural climate change and human induced global warming.
"Our climate change has been going in cycles for millions of years," Adcock said. "We have warming trends and cooling trends. Right now we are currently in a warming trend, so that's to be expected. What is somewhat surprising is that the warming trend we are in is increasing so rapidly. We've never seen such a fast increase in the history of the planet, so that is a little concerning," Adcock said.
Sophomore Bill Gao believes that while these record breaking statistics are unfortunate, they are most definitely not unanticipated.
"At this point, these statistics are no longer shocking to me, nor should they shock anyone else. Global warming has become one of the most difficult issues to combat in our time," Gao said. "El Niño and the California drought are just two examples in a handful of disasters that have occurred due to the exponentially-rising temperature, and these catastrophes will continue to happen unless we start spreading awareness and actively help to fight this problem."
Since 1880, the mean temperature of the planet has risen by roughly 1.7 degrees Fahrenheit – so what does this number mean? Simply put, the warmer the atmosphere is, the more water vapor it can retain; even a seemingly insignificant increase of the global temperature by one degree Fahrenheit can be lethal. The effects of the recent flooding in Louisiana have claimed 13 lives – a disaster blamed on record-breaking levels of atmospheric humidity. It is estimated by NASA that water vapor in the atmosphere causes two-thirds of all greenhouse warming, thus further magnifying the effects of global warming.
In the wake of the aforementioned natural disaster, Junior Michelle Jiang is greatly concerned by the effects that disregarding climate change will yield on our planet.
"I think that we really should take measures to mediate global warming. Humans are speeding up the death rate of life on planet earth, through pollution especially," Jiang said. "The pollution is really wreaking havoc on the climate. In addition to that, we are nowhere close to finding a way to maintain life on another planet. Therefore, we should really find ways to rid our planet of the drastic climate changes that should not be happening."
However, we may not be doomed just yet. Recent projections by the Global Modeling and Assimilation Office in conjunction with NASA's Goddard Space Flight Center are stating that these never-seen-before temperatures may be a lingering effect of last year's particularly strong El Niño event, a phenomenon in which warmer than usual water surfaces in the Equatorial Pacific Ocean. With waters in the Pacific Ocean now cooling down, scientists are predicting a return to the norm.
Until a definite scapegoat can be deduced, scientists can only speculate the root of the recent temperature hike. Science teacher Jason Adcock believes that while there are two sides to every story, early action to combat global warming will determine the fate of our planet.
"It all depends on if we are increasing the rate of warming. If we are, then yes, we need to do something about it. But it might be a natural occurrence that's happening that we can't do anything about," Adcock said. "I would rather take actions to try to prevent it in case we are helping speed this up rather than sit back and do nothing. Plus, in the long run, if anything, these measures will help clean the atmosphere, reduce pollution, so I think it's a win-win here," Adcock said.