Unmask school spirit at Fremd's 2016 Homecoming
Fremd's Student Council will be hosting the homecoming dance on Saturday, Sep. 24, from 7:30 pm to 10:30 pm in the main gym. This year's theme will be masquerade, however, students are restricted to wearing non-elastic masks on sticks and are not allowed to completely cover their faces.
Junior Jasmine Caro says her experience at Homecoming for the past two years has been excellent.
"I attended homecoming my freshman and sophomore year, and I thought it was a fun experience," Caro said. "I got to dress up, have parties beforehand, and eat dinner with my friends."
Throughout the week of homecoming, students are encouraged to dress up for Spirit Week based on the themes Student Council has chosen. This year, the Spirit Week themes are PJ day, Activity Day, College Shirt Day, Flannel Day, and homecoming shirts/Blackout Day. In order to motivate students to dress up, Fremd teachers award cookies to the classes with the highest percentage of people dressed up, including teachers. To increase their chances of being chosen, students are asked to tweet a picture of their class with the hashtag #FHSspirit or tag the school with @FremdVikings.
Sophomore Sarah Stapleton enjoys dressing up for Spirit Week and thinks this week helps students connect with each other.
"Personally, I love Spirit Week. It's so much fun to dress up for the themes and see how intense some people get," Stapleton said. "I think Spirit Week helps the students of Fremd really bond and connect."
Student Council is also hosting several food trucks during lunch periods and at the Powder Puff game. On Monday, Sept. 19, the Beaver's Donut food truck will be open outside of the school during periods 4-7. On Tuesday, Sept. 20, there will be an ice cream food truck at the Powder Puff game which will be at 7 pm. Also, on Wednesday, Sept. 21, the Mario's Italian and Mexican food truck will be open. Also, Student Council will be collecting donations for one teacher to have a pie thrown in their face during the pep assembly on Friday, Sept. 23. All proceeds from the food trucks and the donations will benefit the Palatine Senior Citizens Council and the Victor Viking Fund.
Student council advisor Ashley Soriano and senior student council president Lauren Cardoza are excited about the new activities the group has been planning to promote the homecoming dance.
"There will be a decorating competition between each class to see who has the most school spirit," Soriano said. "This will be led by the class executive boards, but anyone can join in."
Sophomore and student council member Jessica Kim explains how students can help with promoting Homecoming.
"Even students who are not members of Student Council can help promote school spirit by painting posters and decorating the school with streamers on Tuesday, Sept. 20 through Thursday, Sept. 22 from 3-6 pm," Kim said. "Students can also go on Saturday, Sept 24 from 8am to 12pm to help set up for the dance."
Tickets will be on sale from Monday, Sept. 19 to Friday, Sept. 23 at a price of $15 for a single ticket and $30 for a couple. Students can also purchase tickets on the day of the dance for an increased price of $20.
About the Writer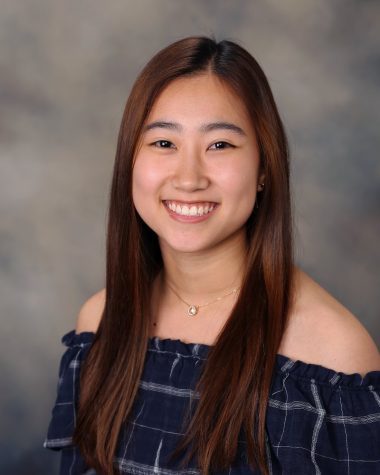 Jiyoon Hwang, News Editor
Jiyoon is now a sophomore and is the Social Media editor for Viking Logue. This is her second year as a member of Logue and her first year as an editor....