NFL 2016: Focus on Football
As warm summer nights turn into cool fall evenings, football teams around the country gear up for another exciting season in the NFL. With some veterans leaving and future legends starting to emerge, the 2016 season should be a fun one. But which teams will still be competing in January and February?
NFC West
Winner last year: Arizona Cardinals
Wild Card last year: Seattle Seahawks  
The story: Now that the Rams have moved to Los Angeles, this division finally houses four teams truly on the West Coast. And although this change may bring in a new era for Rams football, it doesn't appear the team will fare better than recent years. Dynamic RB Todd Gurley will power their offense, but inexperienced QBs and a below-average defense hold them back.
Up near the bay, the 49ers figure to compete for third place with L.A, as several retirements before last year and poor offensive and defensive play ended their string of success. New coach and offensive guru Chip Kelly looks to right the 49ers' ship and bring them back to that success.
While the 49ers fell from the top of the NFC, the Seahawks should continue to compete. A dominant defense and playmaking QB Russell Wilson brought them to the divisional round last year and may bring them even further this year. Young RB Thomas Rawls hopes to follow in the footsteps of Marshawn Lynch, whose retirement ended a long, successful career.
But the Seahawks will first have to bring down the high-flying Cardinals, who finished in the top 5 offensively and defensively last year. Analysts are predicting a big year for the young RB David Johnson, who brings youth to a team led by aging veterans WR Larry Fitzgerald and QB Carson Palmer.
The verdict: Time will tell if the Cardinals can keep up the consistency, but their all-around skill should send them flying high into the postseason again.
NFC North  
Winner last year: Minnesota Vikings
Wild Card last year: Green Bay Packers
The story: Minnesota's surprising first place finish last year ended a streak of four consecutive years the Packers had won the division. Powerful running back Adrian Peterson returns for another year, but being 31, his age could hold him back. Without injured QB Teddy Bridgewater, the Vikings will have to adapt quickly with quarterbacks Shaun Hill and Sam Bradford if they want to continue their success. However, a decent defense should give them a shot at the division title.
For the Packers, dominant QB Aaron Rodgers continues to lead Green Bay, who struggled with injuries and lackluster performances from young RB Eddie Lacy last year. If the Packers maintain their full arsenal, which includes talented WRs Jordy Nelson and Randall Cobb, their offense will be hard to stop.
After a dismal start to the season, the Lions bounced back and managed to win 7 games. However, superstar WR Calvin Johnson shocked the world when he retired at age 30, and Matt Stafford and company will need to find ways to stimulate the offense, which finished dead last in rushing.
Hoping to overtake the Lions are the Bears, who slightly improved under experienced head coach John Fox last year. Up-and-coming youngsters Jeremy Langford and Kevin White have their eyes set on a breakout year for Chicago, which looks to build off their slight offensive and defensive improvement last season.
The verdict: The North promises to have an exciting race, but in the end a healthy Packers team should be enough to regain their hold on the division.
NFC South
Winner last year: Panthers
The story: After years of Atlanta dominance, the Panthers roared out of the gate and off to a 14-0 start, only to lose to the resilient Falcons two week after trouncing them. Despite their one regular season blemish, the Panthers made their way into the Super Bowl, where they fell short to Peyton Manning and the defensive-minded Broncos. Reigning MVP quarterback Cam Newton will pair up with Luke Keuchly and a stingy defense to avenge last year's defeat.
The victory over Carolina could signal better days ahead for the Falcons, who bounced back to finish two games better last year than in 2014. Devonta Freeman surprised everyone as a breakout running back in 2015, and could be the only bright spot in the Atlanta attack besides talented wideout Julio Jones.
Down in Florida, with Jameis Winston entering his second year, and Doug Martin regaining some of his rookie season confidence and ability, the Buccaneers could easily contend for a wild card spot.
And whatever happened to the Saints? Drew Brees is still a great QB, yet their bad pass defense cost them in many games last year. If they can improve on that, they have the pieces to compete again, which could add to the tangible excitement in the warm southern air.
The verdict: All in all, the superior talent of Carolina should be enough to fend off their challengers in the South.
NFC East
Winner last year: Redskins
The story: After the demise of flashy QB Robert Griffin III due to injuries and poor playing, Michigan St. alumni Kirk Cousins was challenged to fill his void, and he did so pretty well. Leading Washington to the playoffs before being knocked out by Green Bay, Kirk hopes to bring the Redskins further this year, but will have a tough time doing so with an underwhelming rushing game.
After barely missing out on the playoffs, the Philadelphia Eagles traded up in the draft to nab QB Carson Wentz, who fared well week one after being promoted when veteran QB Sam Bradford was traded to the Vikings. However, the Eagles still need to shore up their defense if they want to be a complete team.
Deep in the heart of Texas, the Cowboys were hoping that a healthy Tony Romo would lead them to success, but the veteran QB went down for several weeks. However, Dak Prescott, the rookie replacement, seems to be a competent starter, and will need to utilize receiving weapon Dez Bryant.
Up north, New York looks to bounce back from a disappointing 2015 campaign, highlighted by terrible defensive numbers. Their offense was also lackluster, with the exception of star receiver Odell Beckham Jr., who will need to continue his dominance if the Giants have any hope in winning the division this year.
The verdict: Although no team is everyone's choice, the most healthy and experienced team, the Redskins, are the favorites here.
AFC West
Winner last year: Broncos
Wild card last year: Chiefs
The story: In a fairy tale ending reminiscent of John Elway's final season, the Denver Broncos gave Peyton one heck of a retirement party as they took down Carolina in the 2015 Super Bowl. But with Peyton gone and a couple key defenders lost in the offseason, it will be an uphill battle for Denver to continue their winning ways in 2016. Northwestern grad and inexperienced QB Trevor Siemian leads the Broncos now, who hope to maintain their incredible defensive play to supplement their average offense.
Challenging them for another year is Kansas City, who rest their hopes on an effective running game and a stellar defense. The Chiefs have the tools to go far in the playoffs, but will need to put it all together to do so.
Perhaps the most interesting team in the division is the Raiders, who saw improvement last year with emerging WR Amari Cooper. Maturing QB Derek Carr could lead Oakland on a playoff run as long as the youth keeps maturing and the passing defense gets better.
Further south in the Golden State resides the San Diego Chargers, who fell to the bottom of the division after being playoff contenders just a couple years back. However, many of their 12 losses last year were within one score, and veteran QB Philip Rivers hopes to reverse their fortunes, but it will be tough if they can't improve their rushing game.
The verdict: Although it's tough to pick against the reigning Super Bowl champs, the Chiefs have the consistency and talent to take down a different Denver team and a still-maturing Raiders team.  
AFC North
Winner last year: Cincinnati Bengals
Wild card last year: Pittsburgh Steelers
The story: Another year, another early playoff exit for the Cincinnati Bengals, who are out for vengeance in 2016 after their division foe Pittsburgh Steelers upset them in a thriller last postseason. Although QB Andy Dalton played well, the Bengals played with just an average offense, and will need to improve that to become a complete team, since they are set with their ferocious defense.
And how about those Steelers? Big Ben Roethlisberger returns for another year, and fantasy favorite Antonio Brown hopes to have another electrifying season. Unfortunately, star RB Le'veon Bell is out for the first three games as he struggles with drug issues, and Pittsburgh will need him and a mediocre defense to be in tip-top shape come playoff time.
Down in Baltimore, the Ravens season was a shocking failure, as they struggled to come away with wins, despite average years for offense and defense. However, the offensive decency was mainly a result of good passing, and Baltimore will need to bolster its running game if they want to have a bounce back season.
That leaves the lowly Browns, who continue to fail at finding a consistent QB. This offseason they brought in injury-plagued Robert Griffin III, who is already out several weeks after injuring his shoulder against the Eagles in week one. Josh McCown takes over the offense now for Cleveland, which lacks strong starters on both sides of the ball.
The verdict: Playing in a division without any other great offenses, the Steelers have the offensive abilities to outscore their opponents in every game, and have the best shot at the North title.  
AFC South
Winner last year: Houston Texans
The story: Despite season-long QB inconsistency, Houston found a way to win the South, in large part because they weren't any good teams to challenge them. Monster DE J.J. Watt leads the Texans stingy defense for another year, but Houston has a new look offense with young QB Brock Osweiler at the helm and offseason pickup Lamar Miller leading the ground game.
The favorites to win last year, Indianapolis was hindered by injuries and a poor defense on their way to missing out on the playoffs. This year, the Colts will need a better defense and a healthy Andrew Luck at QB if they want a shot at the Super Bowl like they had in 2014.
Trailing behind the two main competitors are the Titans and Jaguars, who saw some improvement despite losing seasons in 2015. In Jacksonville, QB Blake Bortles continues to mature, and a great WR tandem of Allen Robinson and Allen Hurns give the Jaguars some hope for a possible winning season.
Tennessee is led by second year Heisman-winning QB Marcus Mariota, and they could put together some wins due to their decent defense and strong running tandem of DeMarco Murray and rookie Derrick Henry.
Verdict: In the end though, the Texans' offseason improvements at QB and RB give them enough firepower to capture the division crown for the second year in a row.
AFC East
Winner last year: Patriots
The story: It's getting old seeing the Patriots win this division every year. Also getting old is legendary QB Tom Brady, who will miss the first four games of the season after being suspended for his role in the Deflategate controversy. Now, New England puts their hopes in young Rolling Meadows H.S. grad Jimmy Garoppolo. If Garoppolo performs adequately, a solid defense and the not-so-distant return of Brady bodes well for season-long success.
In the Big Apple, the Jets are coming back from a disappointing season in which they squandered a great chance at making the playoffs in the last week. QB Ryan Fitzpatrick returns, as he hopes to combine with their outstanding defense to overcome New England and the rest of the AFC.
On the opposite side of New York, Rex Ryan and his Bills are trying to improve on a mediocre year in which QB Tyrod Taylor emerged but neither their defense or their offense excelled.
Down in the Sunshine State, the Dolphins are trying to put it all together and surprise everyone. They have decent players in QB Ryan Tannehill and WR Jarvis Landry, but ended up towards the bottom of the league in offense and defense.
The verdict: Overall, New England shouldn't be as dominant as in recent years, but their high talent level throughout their squad should be enough to hold off their East competitors.
MVP Contenders
Panthers QB Cam Newton

Rams RB Todd Gurley

Packers QB Aaron Rodgers
The story: Each of these players are prime MVP candidates because they are the focal point of their offenses and are incredibly talented. Gurley's team lacks a solid QB or WR, leaving him to do much of the work for the offense. Cam performs well as a runner and as a passer, and this year he got back his main WR Kelvin Benjamin. Lastly, Rodgers has consistently put up great numbers, and figures to improve on last years' with his favorite WR Jordy Nelson returning this year from an ACL tear.    
About the Writer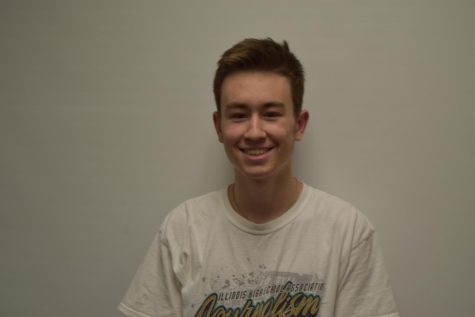 Tim Moran, Sports Editor
Tim is a third year sportswriter for the Viking Logue. He has competed at a regional competition and placed fourth out of 12. His main activity at Fremd...