Wrestling finishes season with strong performances at state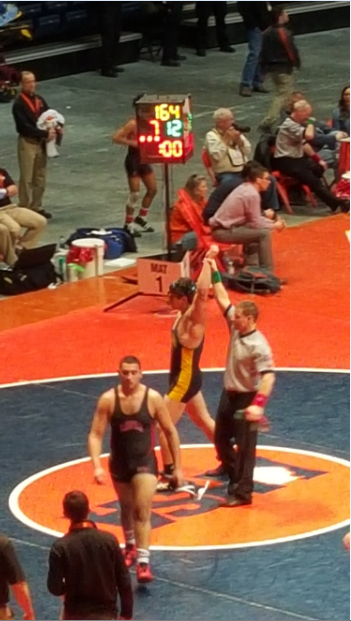 Scott Lenz, Lead Sports Editor
March 9, 2016
Under the dome of the State Farm Center at the University of Illinois Urbana-Champaign, two Fremd wrestlers competed in the IHSA State Finals. After finishing first and fourth respectively in their weight classes at the Barrington sectional, seniors Alex Jacobs and Aaron Cortez were poised to put everything they had into their final high school wrestling matches Feb. 18-20. Jacobs wrestled his way to the state championship in 220 pound bracket and finished second overall.
Jacobs describes his mentality going into the state tournament, which helped him to advance to the final.
"The competition at the state tournament was crazy, but it was what I expected," Jacobs said. "I went in with the mindset that I was better than everyone else there. Once you beat yourself, you give other people a chance to beat you."
This is the second straight year that Jacobs qualified for state and, after being knocked out in the first round at 195 pounds last year, he worked hard to make sure that didn't happen again.
Head coach Daniel Ruettiger details the changes that Jacobs made this season to build upon his previous success.
"Alex tightened up a few things on his feet this season, but overall he just put in a lot of time and hard work," Ruettiger said. "He did a lot of summer wrestling which really paid off for him coming into the season."
In order to make it to the state tournament, Cortez knew that he needed to train against state-level competition. Although Jacobs was in a higher weight class than him, Cortez embraced the challenge of going up against him in practice.
Cortez illustrates how his hard work each day translated into success during the regular and postseason.
"When Alex and I would practice together we would always be going 100 percent, so by the time I wrestled in a real match I was used to that pace," Cortez said. "That would help me win my matches because all the other guys wouldn't be as conditioned as I was."
Although both Jacobs and Cortez's seasons ended on a high note, their achievements  came from learning from their missteps throughout the year.
Cortez explains the way each match along the way to his 24-9 record allowed him to become a better wrestler.
"During the regular season I made a lot of mistakes, so those helped me learn to not make the same mistakes at the regional and sectional," Cortez said. "I had a lot of time to fix them and I would watch my recorded matches to help me see what I was doing wrong."
Fremd wrestling continues to develop into a force to be reckoned with in Illinois. After not having any state qualifiers in 2014, the Vikings have increased their showing at the state tournament by one competitor each year.
Ruettiger highlights the growth of the team through their upward trend of success in the postseason.
"Overall, it was a great season. Our guys made some big improvements," Ruettiger said. "We had ten guys qualify for sectionals this season, last year we had five, and the year before that we had around three, so our wrestlers are getting better."
After going 38-2 on his way to becoming the state runner-up, Jacobs hopes his performance inspires his teammates in the future.
"I tried to be a good example to the younger wrestlers and, specifically with my performance, I set the standards pretty high with second," Jacobs said. "Going to state was one of the most significant moments of my entire life, and after all the hard work I have put in over my four years, it is something I will never forget. It's an amazing thing to experience and I hope one day some of our younger wrestlers will get to experience it too."